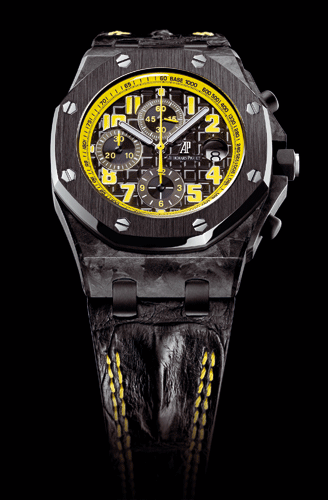 Le boîtier arbore un intriguant noir marbré : le carbone forgé. Ce matériau ultra-léger et résistant a été développé en exclusivité par Audemars Piguet, de la méthode de fabrication à l'outillage. Il fit son apparition en 2007, après plusieurs années de recherche et de mises au point du côté de l'industrie aéronautique mais aussi dans l'automobile et le monde nautique – c'était le Chronographe Royal Oak Offshore Alinghi Team. Il a la particularité d'allier la technologie du forgeage à la mise en œuvre du carbone. C'est grâce à une matrice en acier que l'on obtient les formes complexes du boîtier Royal Oak Offshore. Un assemblage de fils de carbone est placé dans la matrice. Ce fil, de un à deux millimètres de diamètre, est lui-même composé de plusieurs milliers de fibres de carbone de sept microns retenues par un fil de résine. La matrice est ensuite comprimée à haute température sur des pressions qui dépassent 300 kilos par cm2. Pour l'usinage, Audemars Piguet déploie tout le savoir-faire acquis au cours de plusieurs des années de pratique dans la fabrication de ponts et de platines de mouvements en carbone. L'intérieur du boîtier et la reprise des différents perçages peuvent ainsi être dûment terminés. Au final, les angles sont vifs, le touché soyeux et la carrure robuste et pourtant si légère !
A cette tonalité iridescente s'ajoutent la lunette et les plots, en céramique noire étincelante, ainsi que la couronne et les poussoirs surmoulés de caoutchouc vulcanisé. Combiné à cet éventail des noirs, le jaune est prodigieux : chiffres, réhaut tachymètre, trotteuse et coutures du bracelet créent un contraste des plus audacieux. Pionnière dans l'utilisation de matériaux inédits, la Manufacture les associe avec maîtrise et les met ici au service d'un garde-temps sportif et absolument masculin, mélange de high-tech, de flashy contemporain et de maîtrise horlogère.
La performance vient également du mouvement qui équipe cette nouvelle Royal Oak Offshore : le calibre 3126/3840 assure robustesse, fiabilité et précision de marche. Le ressort de barillet fournit une force continue qui garantit jusqu'à 60 heures de réserve de marche. La stabilité du mouvement est encore renforcée par le pont de balancier traversant. Le balancier est par ailleurs doté de huit masselottes qui permettent un réglage tout en finesse. Un rotor en or 22 carats monté sur roulement à billes offre quant à lui un remontage automatique bidirectionnel. Enfin, tous les composants sont finis et décorés à la main, anglage, côtes de Genève, perlage, chacune de ses étapes est réalisée dans le plus grand respect de la tradition. Le monogramme AP et les armoiries des familles Audemars et Piguet sont gravés sur la masse oscillante.
DONNEES TECHNIQUES
Mouvement
Calibre : 3126/3840 à remontage automatique
Diamètre total : 29.94 mm (131/4 lignes)
Diamètre d'encageage : 26 mm
Hauteur : 7,16 mm
59 rubis
365 composants
Réserve de marche jusqu'à 60 heures
Cadence du balancier : 21'600 alternances par heure
Balancier à inertie variable à huit masselottes et spiral plat
Porte-piton mobile de type Genève
Tige de remontoir à trois positions
Finition : décoration manuelle de tous les composants ; rhodiage, anglage, perlage sur la platine et côtes de Genève sur les ponts
Boîtier
Boîtier coffre-fort avec système anti-magnétique, en carbone forgé ; lunette en céramique ; vis en acier
Couronne et poussoirs avec revêtement caoutchouc vulcanisé
Diamètre : 42 mm
Hauteur : 14,7 mm
Fond médaillon en acier noirci gravé du logo Royal Oak Offshore
Etanchéité: 100 m
Cadran
Noir avec décor exclusif « Méga Tapisserie »
Compteurs petite seconde, 30 minutes (à 9 heures) et 12 heures (à 6 heures) noirs
Chiffres et trotteuse jaunes
Aiguilles heures minutes luminescentes
Réhaut tachymètre jaune
Bracelet
Crocodile « Hornback » noir et coutures jaunes, coupé sellier et cousu main, doublé alcantara, avec boucle déployante AP en titane microbillé et coiffe noircie.
Fonctions
Heures et minutes
Petite seconde
Chronographe avec trotteuse au centre, compteurs 30 minutes et 12 heures
Tachymètre
Date
---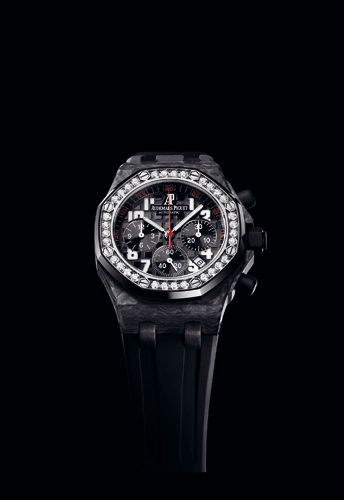 The case features the intriguing mottled black shade of forged carbon, an ultra-light and highly resistant material developed exclusively by Audemars Piguet, from the production method through to the actual tools. After several years of research and development in aviation as well as in the automobile industry and the nautical world, it was first introduced in the 2007 Royal Oak Offshore Alinghi Team Chronograph. This material featured the application of forging technology to the machining of carbon. The complex shapes of the Royal Oak Offshore are achieved by means of a steel die. A set of carbon wires is placed inside the die. Measuring a mere one or two millimetres in diameter, this wire is itself composed of several thousand 7-micron carbon fibres held together by a resin wire. The die is then compressed at a high temperature under pressures of over 300 kilos per cm2. Audemars Piguet thereby demonstrates the full range of its machining expertise, acquired through years of practice in the making of carbon movement bridges and plates. The inside of the case and the correction of the various drilled holes are thus duly completed and the final result features sharp angles, a silky touch and a sturdy yet light stature.
The resulting shimmering dusky effect is complemented by the bezel and studs in shiny black ceramic, as well as vulcanised rubber-moulded crown and pushpieces, while the bright yellow colour of the numerals, tachometric scale, central chronograph seconds hand and stitching on the strap create a spectacularly bold contrast against the backdrop of this palette of black shades. A pioneer in the use of original materials, the Manufacture masterfully combines them here while placing them in the service of a sporty and ultra-masculine sports timepiece that is a fascinating blend of high technology, contemporary daring and horological mastery.
The Calibre 3126/3840 self-winding movement equipping this new Royal Oak Offshore also contributes to its impressive performances by guaranteeing impressive sturdiness, reliability and rating precision. The barrel-spring supplies constant force ensuring 60 hours of power reserve, while the stability of the movement is further reinforced by the cross-through balance bridge. The balance is also fitted with eight inertia blocks enabling extremely fine adjustment, while a 22-carat gold ball-bearing mounted rotor ensures bidirectional automatic winding. Finally, all the parts are finished and decorated by hand with bevelling, Côtes de Genève, circular-graining – with each of these stages performed in complete harmony with tradition. The AP monogram and the Audemars and Piguet family crests are engraved on the oscillating weight.
TECHNICAL CHARACTERISTICS
Movement
Calibre: 3126/3840, self-winding
Total diameter: 29.94 mm (131/4 lignes)
Casing diameter: 26 mm
Thickness: 7.16 mm
59 jewels
365 parts
Up to 60-hour power reserve
Cadence of the balance: 21,600 vibrations per hour
Variable-inertia balance with eight inertia blocks and flat balance-spring
Geneva-type mobile balance-spring stud-holder
Three-position winding crown
Finishing: all parts decorated by hand; mainplate rhodium-plated, bevelled and circular-grained, bridges adorned with Côtes de Genève motif
Case
Strongbox-type case with antimagnetic system, in forged carbon; ceramic bezel; steel screws
Vulcanised rubber-clad crown and pushpieces
Diameter: 42 mm
Thickness: 14.7 mm
Blackened steel back featuring a medallion engraved with the Royal Oak Offshore logo
Water resistance: 100 m
Dial
Black, with exclusive "Méga Tapisserie" motif
Black small seconds display and 30-minute/12-hour counters at 9 and 6 o'clock respectively
Yellow numerals and central chronograph seconds hand
Luminescent hour and minute hands
Yellow tachometric scale
Strap
Black "Hornback" saddle-cut crocodile leather, hand-stitched with yellow seams and lined with alcantara, AP folding clasp in bead-blasted titanium with blackened cover.
Functions
Hours and minutes
Small seconds
Chronograph function with central seconds hand, 30-minute and 12-hour counters
Tachometer
Date