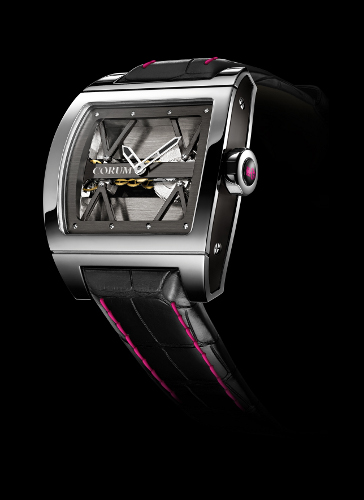 CORUM a crée une version unique de la Ti-Bridge pour ONLY WATCH. La Ti-Bridge abrite un nouveau calibre exclusif conçu, développé et assemblé chez CORUM. Le calibre linéaire CO 007 s'inspire de l'emblématique mouvement Golden Bridge…pour mieux s'en éloigner. Si la forme est en effet reconnaissable, les dimensions, les composants et les caractéristiques techniques sont différents et témoignent de son esprit résolument contemporain.
Tant pour son mouvement que pour son boîtier, la Ti-Bridge fait la part belle au titane, matériau réputé pour sa légèreté mais aussi pour les difficultés qu'il pose en termes d'usinage. Les ponts et platines du calibre CO 007 sont taillés dans ce matériau ultra moderne et traitées en PVD noir. A l'instar du pont supérieur gravé du nom « CORUM », les composants du mouvement font l'objet de finitions soignées. Les ponts sont satinés tandis que l'imposant barillet présente une finition brossée colimaçonnée. Battant à une fréquence de 4 Hz, le calibre CO 007 dispose d'une confortable réserve de marche de 72 heures. Galbé et de forme tonneau, le boîtier est lui aussi taillé dans du titane grade 5 – le seul permettant des finitions polies – et affiche des dimensions de 42,5mm sur 41,5mm. Arborant une large glace saphir bombée sur la partie supérieure, il présente un fond satiné rehaussé en son centre d'une glace saphir rectangulaire ouverte sur le mouvement. CORUM a gravé la célèbre citation de Antoine de St-Exupéry, tirée du livre "Le Petit Prince": « Les enfants seuls savent ce qu'ils cherchent ».
Le mouvement est maintenu à l'intérieur du boîtier par deux jeux de croisillons en titane traités en PVD noir. Vissés sur le rehaut lui-même intégré au boîtier, ils participent à la consolidation de l'ensemble et contribuent à l'esthétisme du modèle. Les parties latérales de la boîte sont décorées d'inserts en caoutchouc noir qui apportent une touche mat et soyeuse au fini de la pièce. Le modèle Ti-Bridge se porte sur un bracelet en crocodile avec une couture framboise qui répond aux codes couleurs de ONLY WATCH. La pièce est livrée avec un second bracelet en caoutchouc, ces deux bracelets sont dotés d'une triple boucle déployante au capot en titane.
C'est une pièce unique et exclusive en tous points, créée spécialement pour ONLY WATCH et gravée ONLY WATCH 2009 – PIECE UNIQUE.
Antonio Calce, CEO de CORUM : «Le projet ONLY WATCH est une grande opportunité offerte aux horlogers de prestige de créer des pièces uniques au-delà des limites, ce projet compte énormément pour CORUM et pour moi. Les enfants sont notre futur; ils développent et réalisent nos rêves. Mieux que les adultes, ils suivent instinctivement leurs rêves sans limites. Tout enfant a le droit de croire que son rêve deviendra réalité ; c'est pourquoi nous soutenons activement la recherche contre la myopathie de Duchenne. En ligne avec les valeurs et la détermination qui guident CORUM je souhaite relever la citation ; " lorsque la passion nous anime, les grandes réalisations sont à portée de main ».
---
CORUM has created a unique version of the Ti-Bridge watch for ONLY WATCH. This timepiece houses a new and exclusive calibre designed, developed and assembled in-house. The CO 007 movement is clearly inspired by the legendary Golden Bridge calibre, while giving a whole new twist to the original concept. Whereas the shape is immediately recognisable, the dimensions, the components and the technical characteristics are all completely different and testify to the resolutely contemporary spirit of the CO 007.
With a movement and case in titanium, the Ti-Bridge gives pride of place to a material known for its lightness but also for being difficult to craft. The bridges and plates of the Caliber CO 007 are cut from this ultra-modern material and black PVD-coated. The meticulous finishing on all movements is typified by the upper bridge engraved with the "CORUM" brand name. The bridges are satin-finished, while the generously sized barrel features are snail finished. Equipped with a balance oscillating at a speed of 4 Hz, Calibre CO 007 is endowed with a 72-hour power reserve. The curved and tonneau-shaped case is made from grade 5 titanium – the only kind that can be polish-finished – and measures 42.5mm by 41.5mm.
Topped on the upper part by a large convex sapphire crystal, the case has a satinfinished case-back enhanced by a central rectangular sapphire window revealing the movement. On the case-back CORUM has engraved a famous quote from Antoine de St-Exupéry taken from the book "LE PETIT PRINCE" that says: « Les enfants seuls savent ce qu'ils cherchent » ("Only children know what they are looking for").
The movement is secured inside the case by a set of two titanium "cross bars" that are black PVD-coated. Screwed to the flange, which is itself integrated within the case, they contribute to consolidating the whole construction and to enhance the aesthetic quality of this model. On the case-side there are black rubber inserts which bring a matt and smooth looking rubber finish to the timepiece. The Ti-Bridge is teamed with a black crocodile strap with raspberry pink hand-made stitching to tie in with the aesthetic codes of ONLY WATCH. The Ti-Bridge ONLY WATCH is delivered with a second strap made of rubber, both equipped with a titaniumcapped triple folding clasp.
A truly precious and exclusive model made especially for ONLY WATCH and engraved ONLY WATCH 2009 – PIECE UNIQUE.
Antonio Calce, CORUM CEO said «The ONLY WATCH project is a great opportunity given to prestigious watchmakers to create unique pieces beyond the limits, and this is a project that really counts for CORUM and for me. The children are our future; they develop and deliver our dreams. Better than adults, they instinctively follow their dreams as they don't have limitation. Every child has the right to believe their dreams will become reality; that is why we really want to support the research for the Duchenne muscular. And to follow CORUM credo, I would say: Where there is passion, great achievement is within reach."