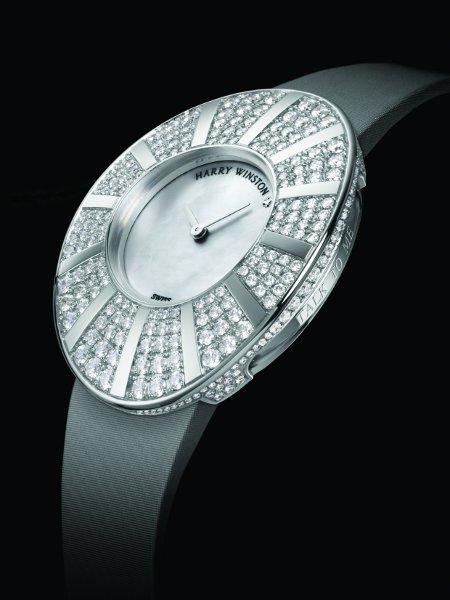 « Les bijoux me fascinent depuis mon plus jeune âge. J'ai probablement été doté d'une connaissance intuitive à ma naissance. » — Harry Winston
Très jeune, Harry Winston est tombé amoureux de la brillance et de la beauté des diamants.
Intimement conscient de ce qui distingue les beaux des superbes diamants, son amour pour ces pierres étincelantes a révolutionné le secteur de la joaillerie et constitue, encore aujourd'hui, une source d'inspiration pour la marque. L'obsession de Winston pour les pierres précieuses était si intense que le célèbre « roi du diamant » gardait souvent ses trésors dans sa poche, faisant rouler les diamants sous ses doigts pour provoquer la chance, l'inspiration et le bonheur.
Prolongeant cette légendaire et insatiable passion, la maison Harry Winston présente un nouveau garde-temps féminin et fascinant, baptisé: Talk to Me, Harry Winston! Véritable déclaration d'élégance et de modernité, cette création capture la beauté étincelante et l'énergie positive des diamants.
Sculpturale et élégante, sa boîte ovale est légèrement galbée pour se lover confortablement autour du poignet féminin. Sertie de diamants Winston formant des lignes étincelantes, la boîte conjugue avec éclat modernité et sophistication. La touche d'originalité est apportée par une bague tournante, gravée « Talk to Me, Harry Winston » qui orne la boîte. Inspirée des pierres porte-bonheur de notre fondateur, cette roue ludique est parée de précieux diamants. La splendeur du cadran en nacre et la finesse du bracelet de satin ajoutent une touche glamour et très féminine.
Référence       811/LQWL.M/D01
Mouvement       Quartz
Fonctions       Heures et minutes
Boîte           40 x 30 mm Or blanc, sertie de 164 diamants
Cadran          Nacre blanche sertie d'1 diamant
Bague tournante Or blanc, sertie de 24 diamants
Glace           Saphir
Bracelet        Satin gris perle
Boucle          Or blanc, sertie de 29 diamants
Etanchéité      30 mètres (3 ATM)
Diamants        218 pierres, taille brillant
Caratage total : 3 carats
Collection      Talk To Me, Harry Winston!
---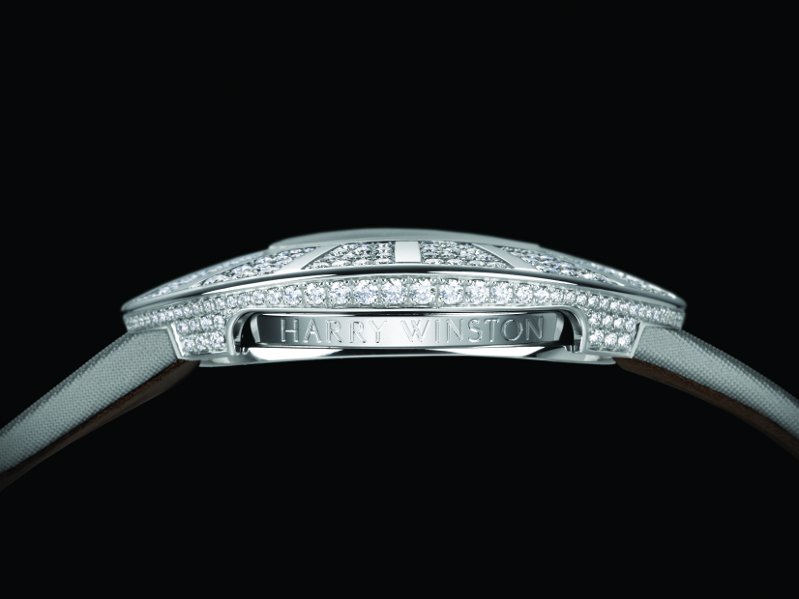 "Ever since I was quite young, jewels have fascinated me. I think I must have been born with some knowledge of them." Harry Winston
From an early age, Harry Winston was incurably enamored with the brilliance and beauty of diamonds. Innately aware of what distinguished good diamonds from great diamonds, his love of these scintillating stones revolutionized the jewelry industry and continues to inspire the company today. Winton's gemstone obsession was so great that the renowned King of Diamonds often kept the priceless treasures in his pockets – rolling diamonds between his fingers for good luck, inspiration and pure happiness.
Inspired by this legendary and insatiable passion for diamonds, The House of Harry Winston introduces a fascinating new timepiece for women — Talk to Me, Harry Winston! A sparkling statement of modern elegance, Talk to Me, Harry Winston captures the brilliant beauty and optimistic energy of the diamonds.
Sculptural and elegant, the sophisticated oval-shaped case is slightly contoured to comfortably fit a woman's wrist. Set with rays of dazzling Winston diamonds, the case captures a modern look of scintillating sophistication. Lending a fanciful touch, the case features a novel wheel engraved with "Talk to Me, Harry Winston." Inspired by our founder's lucky touchstones, the playful wheel is detailed with delicate diamonds. An exquisite mother of pearl dial and chic satin strap enhance the glamorous feminine feel.
Reference        811/LQWL.M/D01

Movement         Quartz

Functions        Hours and minutes

Case             40 x 30 mm White gold set with 164 diamonds

Dial             White mother of pearl, set with 1 diamond

Rotating Ring    White gold set with 24 diamonds

Crystal          Sapphire

Strap            Pearl grey satin

Buckle           White gold, set with 29 diamonds

Water Resistance 30 meters (3 ATM)

Diamonds         218 brilliant cut diamonds

Total Carat Weight: 3.0 carats

Collection       Talk To Me, Harry Winston