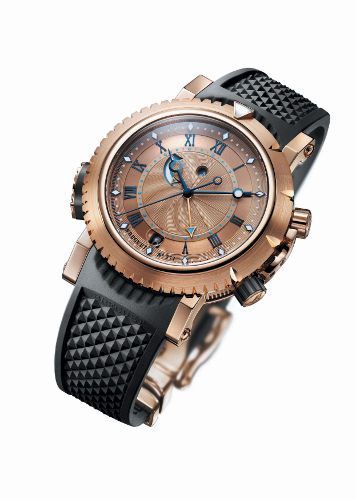 La collection Marine de Breguet est inspirée des montres créées par Breguet pour la Marine Royale française (Breguet devint Horloger de la Marine Royale dès 1815). De conception robuste, ces montres sont depuis plusieurs décennies synonymes de fiabilité. En 2004, Breguet a introduit une nouvelle interprétation de cette ligne, avec une esthétique résolument plus moderne et sportive mais toujours d'une élégance rare. Après l'introduction du premier tourbillon chronographe à échappement silicium en 2007, cette ligne se complète cette année par une nouveauté de premier ordre : la Marine Royale alarme étanche à 300m.
La Marine Royale 5847 est équipée d'une fonction alarme qui ravira les plongeurs amateurs et aussi les amateurs de belles complications. Des tests effectués sous l'eau le confirment : le son s'y propage mieux qu'à l'air libre. Pour les ondes sonores le support matériel est indispensable et la vitesse du son croît avec la densité du milieu. Ainsi, le son se déplace environ quatre fois plus vite sous l'eau que dans l'air. De plus, l'environnement aquatique étant, dans l'ensemble, plus silencieux que l'environnement aérien, l'alarme s'entend très bien sous l'eau.
La couronne de réglage du réveil et le poussoir de mise en marche du réveil, en or sont surmoulés de caoutchouc pour faciliter le réglage. De plus, ils donnent à la pièce un ton résolument moderne et sportif. Les attributs habituels de la montre de plongée sont également présents : comme la lunette tournante unidirectionnelle graduée d'un secteur 20 minutes. Le cliquet bloquant la lunette est apparent et situé entre les deux couronnes de remontage à l'extérieur de la boîte. Sa forme de vague rappelle l'origine aquatique de la montre. Pour en parfaire la lisibilité, même dans les eaux les plus sombres, les indications sont luminescentes. Les index et l'aiguille des minutes comme celle des heures sont recouverts de superluminova, matière lumineuse blanche, alors que les index des heures et de l'alarme sont bleus. Également luminescent, l'indicateur de réserve de marche du réveil est présenté à 10 heures par un triangle bleu servant d'aiguille.
Pour parfaire l'ensemble, la Marine Royale 5847 est dotée d'une fonction date et d'un mécanisme de remontage automatique. La version en or blanc est munie d'un cadran en or 18 ct rhodié noir alors que la version en or rose arbore un cadran en or rose 18ct. Les deux sont guillochés à la main avec le motif en forme de vagues spécifique à la collection.
Marine Royale – Alarme étanche à 300m.
Description de la montre
Ref. 5847BR/32/5ZU
Boîtier rond en or rose 18 carats à carrure finement cannelée. Glace saphir avec loupe sur la date à 6h. Fond guilloché à la main avec glace saphir. Diamètre 45mm. Attaches arrondies et soudées, barrettes vissées. Cliquet de blocage de la lunette tournante unidirectionnelle en forme de vague à 3h. Poussoir d'enclenchement de la sonnerie à 8h surmoulé de caoutchouc. Couronne de réglage de l'alarme à 4h, surmoulée de caoutchouc. Couronnes vissées. Étanche à 300 mètres.
Cadran en or rose 18 carats guilloché à la main, décor « vagues». Individuellement numéroté et signé Breguet. Appliques du tour d'heures en chiffres romains bleuis, points luminescents. Aiguille triangulaire pour le réglage de la sonnerie au centre. Indicateur de réserve de marche de sonnerie dans un guichet entre 9h et 11h. Indicateur d'enclenchement de sonnerie dans un guichet rond à 12h. Indication de la date à 6h. Aiguilles Breguet à « pomme évidée » facettées en or 18 carats bleui et avec matière luminescente.
Mouvement mécanique à remontage automatique avec alarme, numéroté et signé Breguet. Cal. 519R. 12 lignes. 36 rubis. Réserve de marche de 45 heures. Masse oscillante en or rose 18 carats guillochée à la main. Fréquence 4Hz. Échappement à ancre en ligne. Balancier à vis réglantes. Ajusté dans 5 positions.
Disponible également en or blanc 18 carats avec cadran en rhodium noir, et sur bracelet cuir.
---
Breguet's Marine collection draws its inspiration from the original designs created by Breguet himself for the French Royal Navy after his 1815 appointment as Horologist to the French Navy. Sturdy in design, Breguet Marine watches have for decades been reputed for their dependable performances. In 2004 Breguet launched a new interpretation of this product line, featuring a markedly more contemporary and sporty but ever elegant design. Following the launch in 2007 of the first tourbillon-equipped chronograph with silicon escapement, this year brings a groundbreaking new design: the Marine Royale alarm watch, water-resistant to 300 m.
Breguet's Marine Royale 5847 comes with an alarm device that can only delight both amateur divers and aficionados of exceptional complications. Underwater tests confirm that sound travels better through water than through air. Sound waves require material support and their speed increases with the density of the environment. Sound travels about four times faster under than above water. Furthermore, as the underwater milieu is generally far less noisy than the aerial one, the alarm's sound is perceived with greater clarity underwater.
The alarm setting crown and on-off pushpiece, in gold, are sheathed in rubber for easier handling, adding a further touch of sporty elegance. The watch naturally possesses the usual diver's-watch features, not least a one-way rotating bezel inscribed with a graduated 20-minute sector. The bezel's unidirectional rotation is secured by a blocking pawl, visible and located between the two winding crowns on the case flank. Shaped like a wave, it recalls the watch's essential functions. To improve its legibility even in the murkiest waters, its minute markers and hand along with the hour hand are coated with white luminous superluminova while the hour and alarm markers glow blue. Represented by a blue triangular pointer at 10 o'clock, the power-reserve indicator is also luminous.
Rounding out its attributes, the Marine Royale 5847 possesses a date indicator and a self-winding mechanism. The white gold version comes with an 18 kt dial with black rhodium finish while the pink gold version features an 18 kt pink gold dial. Both are manually engine-turned with the collection's dedicated wave pattern.
Marine Royale – Alarm watch water-resistant to 300M.
Specifications of the Watch
REF. 5847BR/32/5ZU
Case: round, in 18K rose gold with finely fluted caseband. Sapphire-crystal glass with magnifying lens over the date at 6 o'clock. Manually engine-turned caseback fitted with a sapphire crystal. Diameter: 45 mm. Rounded horns welded to the case, screw pins securing the strap. Wave-shaped ratchet at 3 o'clock serving to ensure the bezel's one-way rotation. Rubber-covered alarm on/off pushpiece at 8 o'clock. Alarm setting pushpiece at 4 o'clock sheathed in black rubber. Screw-locked crowns. Water-resistant to 300m.
Dial: 18K pink gold, displaying a wave pattern manually engraved on a rose engine. Individually numbered and signed Breguet. Chapter ring with applied blued Roman numerals and luminous dots. Triangular hand at the center for setting the alarm time. Alarm power-reserve indication in an aperture between 9 and 11 o'clock. Alarm on/off indicator in a round aperture at 12 o'clock. Date at 6 o'clock. Facetted, open-tipped Breguet hands in 18-carat blued gold, coated with a luminous compound.
Movement: self-winding mechanical, with alarm mechanism, numbered and signed Breguet. Cal. 519R. 12 lines, 36 jewels. 45-hour power-reserve. Engine-turned 18K rose gold rotor. Frequency 4 Hz. Straight-line lever escapement. Balance-wheel with regulating screws. Adjusted in 5 positions.
Also available in 18K white gold with black rhodium dial as well as with a leather strap.