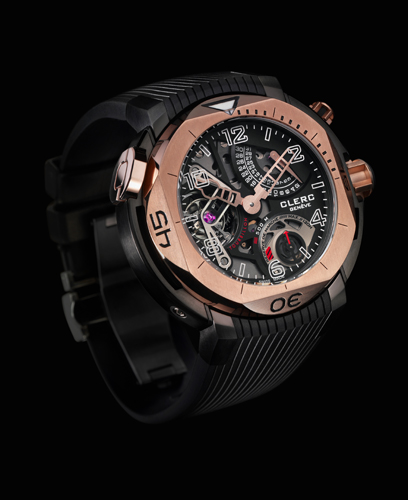 L'Hydroscaph Limited Edition Gold Tourbillon, série ultra-limitée à 28 pièces, est un petit chef-d'oeuvre de luxe et de technologie. Proposant les fonctions heures, minutes, date rétrograde et indication de la réserve de marche, le calibre exclusif Clerc met en scène un tourbillon aux ponts apparents, visibles à travers un cadran squeletté. Sophistiquée et racée, cette pièce est un déclencheur de grands frissons pour grands fonds.
Clerc Genève a déjà fait sensation ce printemps à Baselworld avec l'Hydroscaph, la montre de plongée la plus sophistiquée qui soit. Inspirée de la conquête des fonds marins, elle est équipée de renforts latéraux et d'une valve à hélium lui permettant de descendre sans encombre dans les grands fonds marins. La marque genevoise revient aujourd'hui avec une nouvelle version extrêmement spectaculaire : l'Hydroscaph Limited Edition Gold Tourbillon. Précieuse et hors du temps, cette pièce de haute horlogerie technique est un passeport pour les grands frissons.
Outre la technique qu'elle embarque, la nouvelle Hydroscaph Limited Edition Gold Tourbillon est précieuse à plus d'un titre. Son moteur d'abord : ce mouvement tourbillon exclusif à remontage manuel recèle deux barillets pour une réserve de marche de 120 heures. Cette autonomie remarquable est exceptionnelle sur une montre de plongée. Elle évite en tous les cas d'avoir besoin de manipuler la couronne en milieu humide.
Ce calibre exclusif Clerc Tourbillon 60 secondes, qui répond aux plus hauts standards de la haute horlogerie suisse, propose les fonctions heures, minutes, date rétrograde à 1h30 et indication de la réserve de marche à 5h. Le cadran squeletté de manière très contemporaine ne cache rien d'une mécanique de très haute précision. Le pont de tourbillon vertical en « S », évidé, fait écho aux aiguilles des heures et des minutes, creusent elles aussi. Les chiffres et les index, quant à eux, sont gravés sur la face interne de la glace saphir antireflets, offrant une parfaite lisibilité.
Précieuse, la nouvelle Hydroscaph Limited Edition Gold Tourbillon l'est ensuite à la faveur de son habillage. Son imposant boîtier de 49,6 mm en or rose 18 ct et titane noir est si complexe qu'il a nécessité plus de 75 composants et un protocole de construction totalement nouveau. Etanche à 500 mètres, il est paré de cornes adaptables aussi bien sur une combinaison de plongée que sur tous les poignets. Mais la plus grande nouveauté de ce modèle embarquant une technologie de pointe réside en son mécanisme de lunette tournante : à 10h, une molette permet de faire pivoter la lunette jusqu'à la position souhaitée et de la bloquer. L'ensemble se trouve sécurisée par des protections latérales uniques, évitant ainsi tous risque de dérèglement accidentel lors d'une plongée.
Racée et sophistiquée, l'Hydroscaph Limited Edition Gold Tourbillon est à l'image de son créateur : hors du temps. En effet, si Gérard Clerc – membre de la 4e génération à la tête de la marque créée en 1874 – a hérité du savoir-faire et de la passion de ses ancêtres, il s'est aménagé une place à part dans le cercle restreint des créateurs horlogers. N'attendant pas que l'avenir le rattrape, il le jalonne déjà de montres empreintes des recherches les plus avancées dans les domaines spatial et aquatique.
Synonyme de rupture, ses créations techno-luxe mécaniques n'obéissent qu'à une seule logique : l'inventivité. Conçues avec constance comme un objet d'art unique, les montres Clerc ne font de concessions que pour améliorer la qualité. « Je crée des garde-temps comme je les aime, sans aucun compromis », aime à répéter Gérald Clerc. Une liberté, incontestable passeport vers l'exclusif, que peu de dirigeants du monde de la haute horlogerie peuvent se targuer de détenir ou d'entretenir. A cet égard, la forme très particulière de la lunette de l'Hydroscaph – un cercle superposé à un carré – en est une illustration parfaite. Car aux contingences industrielles, le créateur indépendant préfère depuis longtemps la loi du coeur, privilégiant l'esthétique et la technicité, véritable langage universel des passionnés d'exception.
---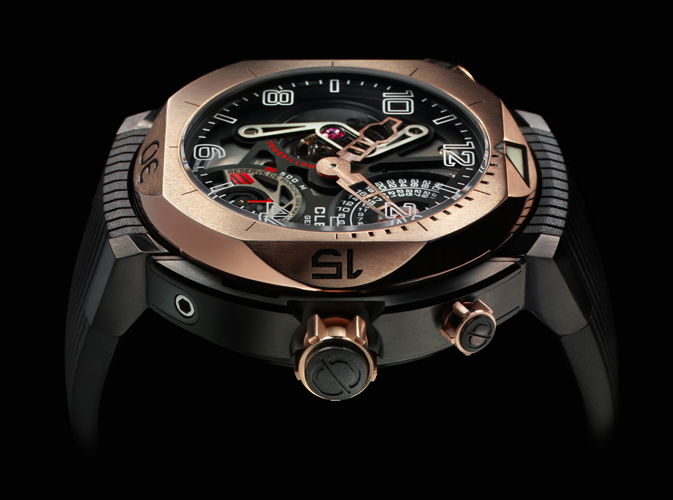 The Hydroscaph Limited Edition Gold Tourbillon, a strictly limited series of 28 watches, is a miniature masterpiece of luxury and technology. Driving hour, minute, retrograde date and power-reserve display functions, the exclusive Clerc movement sets the scene for a tourbillon with bridges that are visible through an openworked dial. This sleekly sophisticated model is designed to trigger great horological thrills for great maritime depths.
Clerc Genève already caused a sensation at Baselworld this spring with the ultra-sophisticated Hydroscaph diver"s watch. Inspired by the conquest of sea-beds, it is equipped with lateral reinforcements and a helium valve enabling it to descend smoothly to the depths of the world"s oceans. The Geneva-based brand is now back with a new and extremely spectacular version of this model: the Hydroscaph Limited Edition Gold Tourbillon. This precious and timely epitome of technical fine watchmaking is a passport to spine-tingling adventures.
As well as being packed with technology, the new Hydroscaph Limited Edition Gold Tourbillon is precious in more than one respect, starting with its "engine", an exclusive hand-wound tourbillon movement equipped with twin barrels guaranteeing a 120-hour power reserve. This remarkable autonomy is exceptional for a diver"s watch and avoids any need to handle the crown while in water.
This exclusive 60-second Clerc Tourbillon movement meets the highest standards of Swiss fine watchmaking and drives the hours, minutes, the retrograde date display at 1:30 and the power-reserve indicator at 5 o"clock. The extremely contemporary openworked dial conceals nothing of the high-precision mechanism, while the S-shaped hollowed vertical tourbillon bridge echoes the scooped-out hour and minute hands. Meanwhile, the numerals and hour-markers are engraved on the inside of the glareproofed sapphire crystal to ensure perfect readability.
The precious nature of the new Hydroscaph Limited Edition Gold Tourbillon also stems from its exterior. Its generous 49.6 mm case in 18-carat rose gold and black titanium is so complex that it called for more than 75 parts and a brand-new set of construction specifications. Water-resistant to 500 metres, it is fitted with lugs enabling a perfect fit on all wrist sizes and even over a diving suit. However, the most innovative new feature of this model is its rotating bezel with a roller-knob at 10 o"clock serving to pivot and lock the bezel to the required position. The whole is further secured by unique lateral protective guards that thus avoid any accidental shift in position while diving.
The sophisticated, purebred Hydroscaph Limited Edition Gold Tourbillon is in a sphere beyond time, much like the man who created it. While Gérald Clerc, representing the fourth generation at the head of the brand created in 1874, has undoubtedly inherited the know-how and the passion of his forefathers, he has also carved out a niche for himself within the select circle of creative contemporary watchmakers. Instead of waiting
for the future to catch up with him, he is already tracing it with watches imbued with breakthrough features stemming from state-of-the-art research in the fields of space and aquatic exploration.
Known for embodying a break with conventions, his mechanical techno-luxury creations are governed a single rule: inventiveness. Consistently designed as unique objets d"art, Clerc watches make no concessions when it comes to improving quality. As Gérald Clerc likes to say: "I create timepieces the way I like them, meaning to uncompromising standards". Few movers and shakers in the field of Haute Horlogerie can lay claim to enjoying or maintaining such total freedom of choice, a sure token of exclusivity. The extremely distinctive shape of the Hydroscaph bezel – a circle superimposed on a square – is indeed a perfect illustration of this peerless creative liberty. Refusing to be confined by the straightjacket of industrial contingencies, this independent spirit has always preferred to be ruled by the heart in focusing on aesthetic elegance and technical advancement –the universal language of all those who are dedicated to the exceptional.