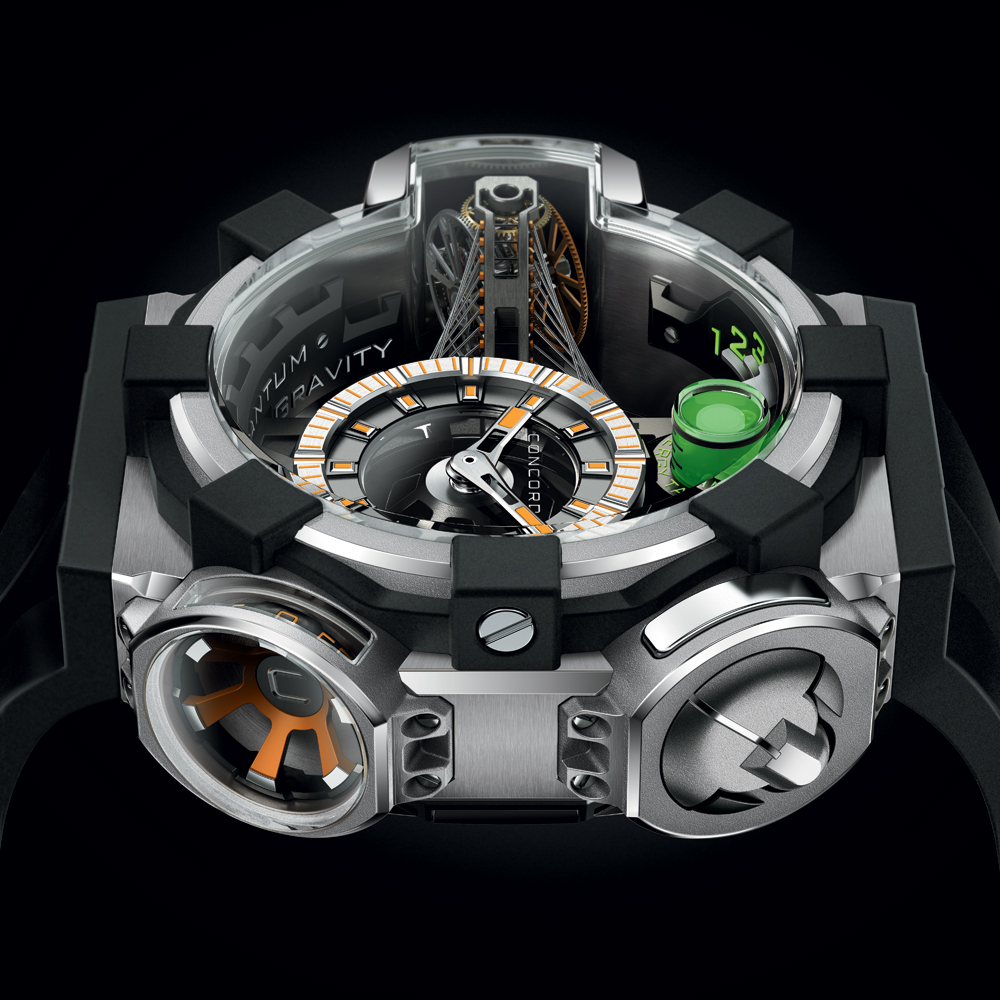 Tourbillon bi-axial aérien, réserve de marche dressée à la verticale, seconde individualiste, cadran désossé, volume spectaculaire. Le dernier spécimen du C Lab Series échappe à toutes les théories. Mieux, il crée ses propres lois : le vide comme matériau principal, l'ingénierie comme constance ; la chimie comme défi, la transparence comme impératif.
Imaginée et élaborée par le C Lab Series, la C1 QuantumGravity symbolise un temps sans carcan ni normes, où seules la pulsion et l'intuition prévalent. Unité spéciale dédiée à l'horlogerie de l'extrême, le C Lab Series se donne pour mission de transfigurer le temps mécanique en l'éveillant à de nouveaux modes d'expression. L'année dernière, la montre C1 Tourbillon Gravity a inauguré une ère horlogère où le temps s'émancipe sans réserve.
Cette année, le C Lab Series étend la mutation horlogère à de nouveaux horizons. Pensée en automne 2008, la C1 QuantumGravity est née après 5 mois de gestation, de la volonté et de l'énergie d'une équipe qui fonctionne à l'instinct. La réalisation du mouvement a été confiée à BNB Concept, la finalisation du design au Studio Bellon.
Le résultat : une nouvelle espèce horlogère qui vit le temps comme une expérimentation et l'espace comme une stimulation. La conception de la C1 QuantumGravity est une provocation en soi, sa construction une exploration aux confins de la démesure et du défi.
Une réserve de marche d'aplomb
Première équation : Réserve de marche = verticalité + fluidité
Un piston cylindrique. Un va-et-vient vertical. Du liquide. Il n'en faut pas moins au C Lab Series pour réaliser l'équation étonnante de la mécanique et de la chimie.
Liquidés les codes traditionnels de conception et d'affichage : c'est une colonne de verre mobile, située entre 12h et 13h, qui fait office de réserve de marche à indication verticale. Côté chimie, du liquide à nanoparticules vert phosphorescent vient combler le tube et en accompagner la lecture. Côté mécanique, cette jauge d'énergie fonctionne perpendiculairement au calibre, montant et descendant de sa base pour signaler la charge du mouvement par rapport aux trois jours d'utilisation disponibles. À son pourtour gradué correspondent des indices de niveau plaqués sur la paroi interne de la montre.
Un tourbillon bi-axial haubané
Deuxième équation : Tourbillon = suspension + axes2
Des câbles. Un mouvement bi-axial. Un emplacement latéral. Autant de défis à conjuguer pour ériger une cage de tourbillon spectaculaire.
Exportée sur le flanc Ouest du garde-temps, littéralement en suspens, elle effectue des rotations pluridimensionnelles sur deux axes – le principal étant vertical. Déroutante, sa construction emprunte aux ponts haubanés leur élévation rigide et légère : un bras, tendu de câbles de 2/10è de mm d'épaisseur arrimés à la platine maintient la cage à la verticale, accentuant l'impression de structure autonome. Le mécanisme de suspension repose sur un système élastomérique autotenseur qui permet de régler précisément l'articulation câbles/bras et de compenser les effets de dilatation.
Une mécanique en lévitation
Troisième équation : Temps = espace
48,5 mm de diamètre, 22 mm d'épaisseur : des allures de titan qui atteignent même une largeur de 57,5 mm. Et pourtant, la C1 QuantumGravity n'en est pas moins portable, ses attaches sans cornes lui assurant un parfait ajustement au poignet. Son boîtier façonné en titane et la majorité des pièces du mouvement en aluminium lui confèrent en outre une légèreté aussi stupéfiante que l'est sa taille.
La corpulence de cette montre de 511 pièces est également contrebalancée par une anatomie faite d'espace et de transparence : le boîtier, qui a nécessité 400 heures de mise au point d'usinage, se réduit à une ossature littéralement enveloppée par 5 glaces saphir. Le mécanisme est observable sous tous les angles.
Si boîtier et mouvement sont génétiquement liés car créés l'un pour l'autre, ils sont flanqués d'éléments qui semblent fonctionner en autarcie : côté Ouest, une excroissance vitrée qui loge la cage de tourbillon ; côté Est, deux carters symétriques qui abritent le système de remontage et la seconde, respectivement à 2h et 4h.
Totalement escamotée, l'imposante clé de mise à l'heure s'éjecte de son blindage sur simple pression d'un bouton-poussoir. Les secondes, quant à elles, fuguent en dehors du cadran pour se nicher sur le flanc du boîtier. Luminescentes et orangées, elles sont gravées sur un rouleau d'aluminium noir et visibles au travers d'une fenêtre dont la découpe fait écho au bouton-poussoir de la couronne. Une glace saphir latérale révèle les pales tournantes orange de la roue des secondes.
Le cadran est également contaminé par cette volonté d'ouverture maximale. S'il s'ingénie à afficher la fuite des heures et des minutes, il privilégie surtout les espaces vides. La profondeur de champ y est vertigineuse ; le sentiment de lévitation enivrant. La déstructuration chère à Concord y est amplifiée : la C1 QuantumGravity appréhende le temps comme une perspective, utilisant le vide comme un matériau auquel se greffent les indications.
Sous l'impressionnante glace saphir, le panorama élargi à son maximum profile un temps quasi dématérialisé. Et malgré la folie qui émane de la pièce, la lisibilité reste au cœur des impératifs de construction. Telle une soucoupe de verre en suspension, le tour d'heure décentré à 3h30 coiffe une partie de la cavité au fond de laquelle repose le mouvement. Une structure arachnéenne forme un échafaudage sous le disque transparent ponctué d'index luminescents orangés. La hauteur d'aiguillage de 6,5 mm, une prouesse technique en soi, ajoute à la sensation de vertige.
Calé au fond du gouffre, le mouvement mécanique à remontage manuel orchestre les données du temps avec précision. Un fond officier qui prend l'allure d'un sas dévoile à l'envi le circuit géométrique des ponts squelettés en angles droits, les rouages transmettant l'énergie à la cage de tourbillon et le système de réglage des câbles. Le jeu des finitions met en lumière un design industriel, à la fois méthodique et futuriste : platine en aluminium noir contre ponts en aluminium anthracite, rubis contre vis en acier poli… Des finitions qui résument l'esprit d'une montre faite de matériaux high tech, de verre, de vide et de matières luminescentes colorées.
La C1 QuantumGravity défend un temps inexorablement lié à l'espace. Prophétique, sa construction réalisée en un temps record propulse Concord dans un univers parallèle où l'intuition est un allié de choix ; son design et sa mécanique sont une anticipation sur l'avenir horloger. L'addiction à la rupture et à l'extrapolation sous-tend le nerf créatif de Concord. C1 QuantumGravity en est l'ultime créature.
Rendez-vous sur www.c1-quantum.ch pour découvrir le processus de création de cette pièce exceptionnelle, limitée à 10 exemplaires.
Données Techniques : 
Mouvement 
Mécanique à remontage manuel
Calibre Concord C104
21'600 A/H
Réserve de marche de 3 jours
42 rubis
Fonctions 
Heure, minute
Rouleau des secondes externe au boîtier
Indicateur de réserve de marche vertical
Tourbillon bi-axial
Boîtier 
Titane avec éléments en or gris
Dimensions : 48.5 mm de diamètre – 22 mm de hauteur
5 glaces saphir
Fonds ouvert avec couvercle vissé type « officier »
Cadran 
Bracelet
Caoutchouc vulcarboné noir rivé au boîtier par 4 vis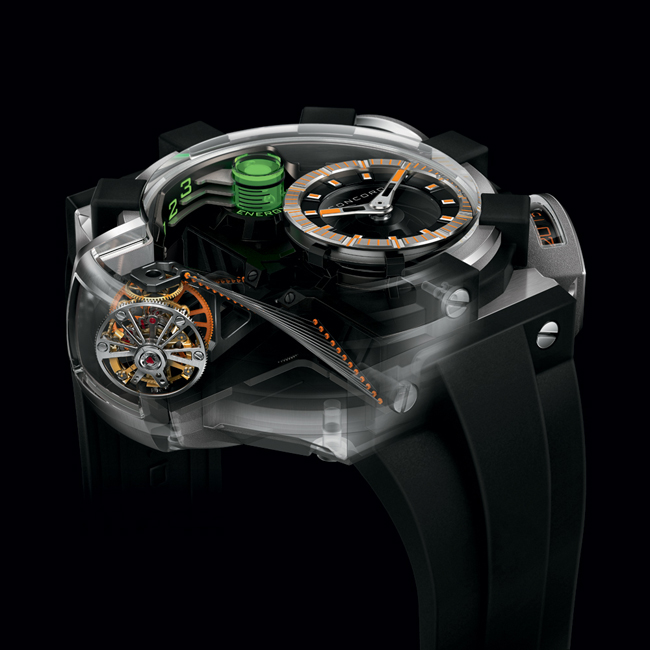 An aerial bi-axial tourbillon mechanism. A vertical power reserve. Individualist seconds. A stripped-down dial and spectacular volumes: the latest specimen from the C Lab Series defies all theories. Even better, it creates its own rules: emptiness is its core material, engineering its constancy; chemistry a dare and transparency a must.
Designed and developed by the C Lab Series, the C1 QuantumGravity symbolizes unrestricted and unconstrained time, where only impulse and intuition prevail. A special unit dedicated to extreme watchmaking, the C Lab Series has a mission: to push the boundaries of mechanical watch making by introducing it to new modes of expression. Last year, the C1 Tourbillon Gravity timepiece inaugurated a new watchmaking era, where time liberates itself without reserve.
In 2009, the C Lab Series is expanding this watchmaking metamorphosis to embrace new horizons. Initially devised in the fall of 2008, the C1 QuantumGravity was born after a 5-month incubation period, nurtured by the will and tireless energy of a team that works on instinct alone. BNB Concept was entrusted with the creation of the movement, while Studio Bellon finalized the design.
The result: a new species of watch that lives time as if it were an experiment and space, a source of stimulation. The creation of the C1 QuantumGravity constitutes a provocative act in itself, while its construction is an exploration carried out at the brink of excess and defiance.

A perpendicular power reserve
First equation: Power reserve = verticality + fluidity
A cylindrical piston. A vertical back-and-forth movement. Liquid. These were the three essential elements combined by the C Lab Series to create this astounding equation involving mechanics and chemistry.
Traditional design and display codes have been demolished to make way for a mobile glass column, located between 12 and 1 o'clock, which serves as the power reserve with a vertical indicator. On the chemistry side of things, a liquid featuring green phosphorescent nanoparticles fills a tube to assist in the reading. Meanwhile, on the mechanical side, this energy gauge operates perpendicularly to the caliber, rising up and down from its base to signal the remaining energy of the movement in relation to its available three-day power reserve. Its graduated outline corresponds to level indicators, which are secured to the inner surface of the watch.
A stayed bi-axial tourbillon
Second equation: Tourbillon = suspension + axes2
Cables. A bi-axial movement. A lateral position. This collection of challenges had to be taken on to erect a spectacular tourbillon carriage.
Exported to the timepiece's Western border and literally suspended, it rotates in a multi-dimensional manner on two axes – the main one being vertical. Its baffling structure has adopted the rigid and light elevation of cable-stayed bridges: one arm, extended from cables measuring just 2/10th of a mm-wide and fastened to the plate, maintains the carriage vertically and thus reinforces the impression of an independent arrangement. The suspension mechanism is supported by an elastomeric self-tensing system, which enables the cable/arm hinge to be precisely adjusted and the dilatation effects, compensated.
Levitating mechanics
Third equation: Time = space
48.5 mm in diameter and 22 mm in depth: the appearance of a Titan, whose proportions reach a staggering 57.5 mm in breadth. Yet, the C1 QuantumGravity remains easily wearable thanks to its lugless design which ensures a perfect fit on the wrist. The use of Titanium for the case and Aluminum for the majority of movement components bestows a lightness on this timepiece that is as astounding as its size.
The build of this watch composed of 511 parts is also offset by an anatomy that privileges space and transparency: the case, whose machining required 400 hours of fine adjustment, can be reduced to a structure that is literally enveloped by 5 sapphire crystals. The mechanism is visible from all angles.
Although the case and movement share a genetic bond as they were made for each other, they are flanked by other elements that seem to operate self-sufficiently: to the West, a glass excrescence house the tourbillon carriage while to the East, two symmetrical casings house the winding mechanism and the seconds, at 2 o'clock and 4 o'clock respectively.
Concealed entirely, the imposing time-setting key can be ejected from its armor by simply pressing on the push button. As for the seconds, they evade the dial to nestle on the side of the case. They are engraved in luminescent orange against a black aluminum roll and can be seen through a window whose cut echoes the push button of the crown. A lateral sapphire crystal reveals the rotating orange blades of the seconds wheel.
The dial has also been contaminated by this urge for maximum openness. Although it strives to display the flight of hours and minutes, its focus is on empty spaces. The depth of its field of vision is dizzying, the feeling of levitation exhilarating. Deconstruction, a concept so dear to Concord, has been magnified: the C1 QuantumGravity apprehends time as a perspective, using emptiness as a material on which time features are grafted.
Under the impressive sapphire crystal, the panorama, amplified to its utmost, outlines time that has almost been dematerialized. And despite the exuding madness, legibility has remained at the core of its construction. Just like a suspended glass saucer, the off-centered hour-circle between 3 and 4 o'clock dresses a part of the cavity at the bottom of which the movement is supported. A spider-like structure acts as a scaffold under the transparent disc punctuated by the luminescent orange markers. The 6.5 mm high hand-fitting is a technical prowess in itself and adds to the feeling of dizziness.
Wedged at the bottom of the abyss, the mechanical manually wound movement choreographs time with precision. An officer-style case-back which appears as an air-lock at every opportunity reveals the geometric circuit, the right-angled skeletonized bridges, the gear-trains that transmit energy to the tourbillon carriage and the cable adjustment. The finishing touches highlight an industrial design that is both methodical and futuristic: a black aluminum plate against anthracite aluminum bridges, rubies against polished steel screws… They embody the spirit of a watch made with high-tech materials, glass, emptiness and colored luminescent materials.
The C1 QuantumGravity defends time that is inexorably linked to space. Prophetic, its construction created in record time propels Concord into a parallel world where intuition is a favored ally and its design and mechanics a harbinger for the future of watchmaking. An addiction to breaking established codes and extrapolating underlies Concord's creative mettle. C1 QuantumGravity is its ultimate creation.
Go to www.c1-quantum.ch to find out about how this exceptional timepiece, in a limited edition of 10, was created.
Technical Features:
Movement
Mechanical manually wound movement

Caliber Concord C104

21,600 vibrations per hour

3-day power reserve

42 Jewels
Functions
Hours, minutes

Roll of seconds external to the case

Vertical power-reserve indicator

Bi-axial tourbillon
 
Case
Titanium case with white gold elements

Dimensions: 48.5 mm in diameter – 22 mm in depth

5 sapphire crystals

See through officer-style hinged case back
 
Dial
Strap
Black vulcanized rubber fixed to the case with 4 screws