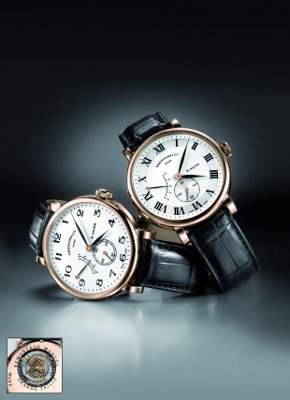 8 Jours Grande Taille, l'élégant modèle avec lequel  la maison Eberhard&Co. a réinterprété un de ses classiques, est maintenant présenté dans une précieuse version en or 18 carats de 41 millimètres de diamètre.
Muni d'un dispositif spécial de remontage, breveté par Eberhard&Co., cette élégante proposition a un boitier en or rose dont le fond révèle une partie du précieux mouvement mécanique à remontage manuel. Du hublot sur le fond, il est possible d'admirer le pont du grand barillet, squelette, avec la silhouette "8" dorée au travers de laquelle il est possible d'apercevoir le "déroulement" du second ressort de remontage, d'une longueur exceptionnelle d'un mètre et 25 centimètres.
8 Jours Grande Taille en or rose, montée sur un bracelet en crocodile, est une montre étanche jusqu'à une pression de 3 atmosphères, a un verre saphir et est proposée avec un cadran blanc et chiffres arabes ou romains.
Référence: 20023

Mouvement: calibre E&Co. 896.1 15″ – Base Peseux 7001. Montre mécanique à remontage manuel avec réserve de marche de 8 jours, dispositif exclusif Eberhard & Co, breveté; indicateur de la réserve de marche à 9 heures, petites secondes à 6 heures, deux ressorts superposés (0,30 m. + 1,25 m.), longueur totale 1,55 m.

Boîtier: en or rose 18 carats

Diamètre du boîtier: 41,00 mm.

Epaisseur du boîtier: 11,25 mm.

Fond du boîtier: poli, serré par 6 vis, avec incisions. Un hublot protégé par un verre saphir permet de voir le pont de grand barillet avec traitement black or, squelette avec silhouette "8" en relief avec finition dorée.

Entre-cornes: 19,00 mm.

Etanchéité: 3 atm.

Couronne: étanche, personnalisée "E"
---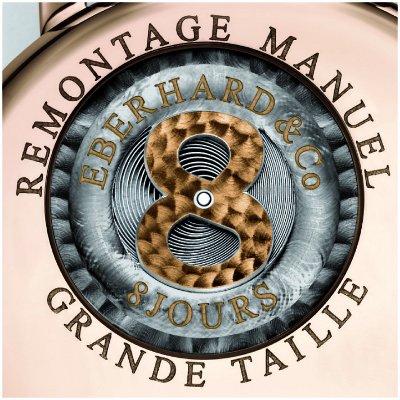 The 8 Jours Grande Taille collection has been complemented by a new version in rosé gold.
It is presented to the public at the Watch and Jewellery show is Basel.
The 8 Jours Grande Taille was the first watch with an indicator for an eight-day power reserve. A technical feat that was made possible by a special patented device with two superimposed springs with a combined length of one and half meter.
The rosé-gold version of the 8 Jours Grande Taille has the same characteristics as the steel model. The generously dimensioned 42mm case has been retained. As especially refined special feature is the caseback that allows watch enthusiasts to catch  a glimpse of the precious mechanical movement with hand winding.
Through the bull's eye on the caseback, made of sapphire glass, you can gaze at the bridge of the large barrel, adorned with a silhouetted "8", and at the coil of the second spring with its extraordinary length of one meter and 25 cm.
Once again, Eberhard&Co. demonstrates with this new and prestigious rosé-gold version how much care the company devotes to even the smallest detail. One example of that care is the silhouetted "8" in relief and its gold-plated finish, enhanced by the special "black-or" treatment  that makes the new model even more precious.
The 8 Jours Grande Taille is water-resistant to 3 atm. It is available with a white dial and Arabic or Roman numerals and has a crocodile strap with an 18ct gold clasp.
Movement: calibre E & Co. 896 10 ½ " – Basis Peseux 7001. Mechanical watch, hand-winding, with 8 DAYS modulus, an exclusive Eberhard & Co. device – patented. Power-reserve indicator at 9 o'clock, small second hand at 6 o'clock, two overlapping springs (0,30 m. + 1,25 m.), for a total length of 1,55 m.

Diameter of the case: 41,00 mm.

Thickness of the case: 11,25 mm.

Case-back: polished, secured by 6 screws, with engravings. A small window, protected by a sapphire glass, allows to see the skeleton bridge of the main barrel with a black or treatment, and a gilt silhouette "8" in relief.

Strap attachment: 19,00 mm.

Crown: water-resistant, personalised with "E"