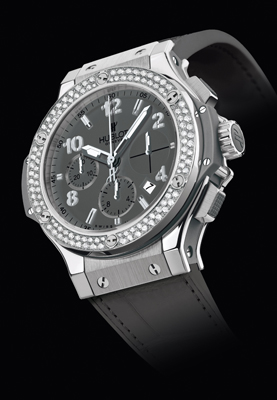 Une Big Bang d'un gris mat doux et intense, illuminé par les diamants qui entourent le cadran. La nouveauté réside dans le subtil bracelet en alligator gris, rendu souple grâce au caoutchouc cousu sur la face intérieure. D'une élégance argentée qui alterne le mat et le brillant, la Big Bang Earl Gray peut aussi se porter avec un bracelet acier articulé, dont la tranche est garnie de résine composite grise. Les teintes de gris de l'acier, du cadran couleur tantale, du cuir et de la résine s'harmonisent pour rappeler la fusion des matières, un art cher à Hublot.
DETAILS TECHNIQUES
Boîtier "Big Bang" diamètre 41 mm en acier poli, embouts brossés
Lunette Acier avec 6 vis en Titane de forme H noyées polies-bloquées, ou sertie :
– de 114 diamants (pour env. 1.22 ct)
– de 48 diamants baguette (pour env. 2.23 ct)
Glace Saphir avec traitement anti reflets intérieur
Lunette Oreille Résine composite grise
Inserts Latéraux Résine composite grise
Fond Acier avec glace saphir, traitement anti reflets intérieur
Couronne Acier avec insert en caoutchouc gris
Poussoirs Acier, rectangulaires avec insert en caoutchouc gris
Vis Titane
Etanchéité 100 m ou 10 ATM
Cadran Gris couleur tantale avec chiffres et appliques rhodiés satinés
Aiguilles Facettées, diamantées, rhodiées avec luminescent blanc
Mouvement Chronographe mécanique avec remontage automatique Calibre HUB1145
Nb composants 278
Rubis 37
Ponts Satinés anglés polis
Vis PVD noir
Quantième Guichet trapézoïdal à 4h30
Masse Oscillante Carbure de tungstène avec surface alvéolée traitée en PVD noir
Platine Sablée rhodiée
Barillet A ressort renforcé
Echappement Spiral Glucydur
Réserve de Marche 42 heures
Bracelet – « Gummy-Alligator » gris : caoutchouc intérieur, alligator sur le dessus
– Acier articulé avec inserts en résine composite grise sur la tranche
Fermoir Acier, avec déployant acier
---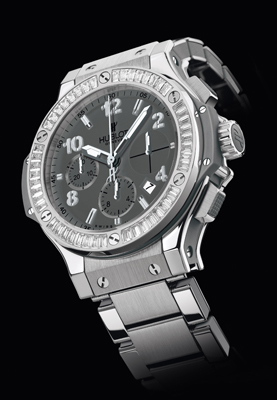 A Big Bang in a soft but intense matt gray finish, enhanced by the diamonds surrounding the dial. Novelty comes in the form of the subtle, gray alligator strap, made supple by the rubber stitched on the inside. With a silvered elegance that contrasts the matt with the brilliant, the Big Bang Earl Gray can also be worn with an articulated steel strap, whose side is covered with gray composite resin. The gray shades of the steel, the tantalum-coloured dial, the leather and the resin are in harmony, evoking the fusion of materials, a key concept for Hublot.

TECHNICAL DATA

Case "Big Bang" diameter 41 mm in satin-polished steel, with brushed-finish end pieces

Bezel Steel with 6 titanium H-shaped screws – sunken, polished and blocked, or set with:
– 114 diamonds (approx. 1.22 cts)
– 48 baguette diamonds (approx. 2.23 cts)

Crystal Sapphire crystal with interior anti-reflection treatment

Bezel lug Gray composite resin

Lateral inserts Gray composite resin

Back Steel with sapphire crystal; interior anti-reflection treatment

Crown Steel with gray rubber insert

Push-pieces Steel, rectangular with gray rubber insert

Screws Titanium

Water-resistance 100 m or 10 ATM

Dial Gray tantalum-coloured with satin-finish rhodium-plated figures and appliqué index markers

Hands Faceted, diamond-polished, rhodium-plated, with white luminescent feature

Movement Mechanical chronograph with automatic winding, HUB1145 calibre

No. of components 278

Rubies 37

Bridges Polished, satin-finish with chamfered edges

Screws Black PVD

Calendar Trapezoid aperture at 4:30

Oscillating weight Tungsten carbide with dimpled surface coated with black PVD

Bottom plate Sand-blasted; rhodium-plated

Barrel With reinforced spring

Escapement Glucydur balance spring

Power reserve 42 hours

Strap – Gray "Gummy-alligator": rubber on the inside, alligator on the outside
– Articulated steel, with gray composite resin inserts on the side

Clasp Steel, with steel deployant