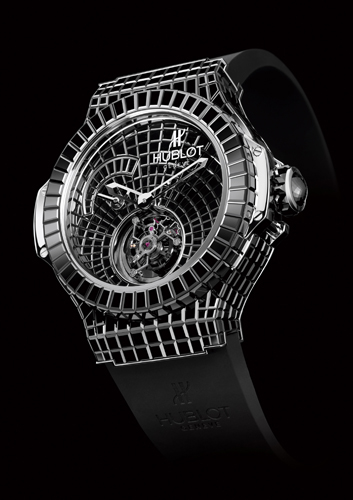 Hublot présente la quintessence de « l'invisible visibilité » dans une uniformité de noirs !
La marque horlogère et l'atelier de sertissage Bunter SA ont réalisé ensemble une Première Mondiale au sertissage totalement invisible, composé uniquement de diamants noirs.
C'est une grande première, une performance technologique et artistique. Le rêve de faire fusionner les concepts chers à Hublot – invisible visibilité, « All Black », tradition horlogère et technologie ultra pointue – s'est réalisé grâce à la créativité, l'ingéniosité et un brin de folie qui ont poussé ses concepteurs à fabriquer ce chef d'oeuvre.
L'extrême sophistication de la micro mécanique associée à l'habileté de la main de l'homme a donné vie à la One Million $ Black Caviar Bang.
Son sertissage est d'une grande complexité, la difficulté provenant des lignes particulières du boîtier de la Big Bang, arrondi mais aux angles vifs. La construction monobloc en Or blanc du boîtier ne laisse apparaître aucune once de matière, et les diamants taillés mystérieusement semblent tenir comme par enchantement. Seul l'éclat noir et profond des diamants est visible, dans leur alignement harmonieux.
Cette pièce unique qui abrite un Tourbillon est le symbole de la fusion entre horlogerie et joaillerie, entre tradition et technologie, entre scintillement et invisibilité. La vibration qui s'en dégage suscite une émotion teintée de fascination. Comme cite Jean-Claude Biver :
« Quand chaque élément est maîtrisé pour lui-même et dans la cohérence avec celui qui est juste à côté, cela est invisible de l'extérieur mais crée une vibration d'harmonie qui, elle, est visible et suscite l'émotion chez celui qui la perçoit ».
Une telle montre d'exception a nécessité plus de 2000 heures de travail minutieux, de la conception à l'ajustement final, en passant par la recherche/développement, la programmation des machines, le choix des outils, la taille des diamants, le contrôle optique de chaque pièce, le sertissage puis l'emboîtage.
544 diamants baguette de qualité TW-IF à VVS 
couvrent la montre sur le boîtier, le cadran, la couronne et le fermoir à boucle déployante.
Boîtier Or blanc 18 K serti de 322 diamants baguette noirs (25.11 cts)

Glace Saphir avec traitement anti reflets intérieur

Fond Or blanc 18 K avec glace saphir, traitement anti reflets intérieur

Couronne Or blanc 18 K sertie de 13 diamants baguette noirs (1.7 cts)

Cadran Or blanc 18 K, serti de 179 diamants baguette noirs (5.48 cts),

sertissage en arc de cercle à 10h, pour indiquer la réserve de marche.

Aiguilles Aiguilles rhodiées squelettes facettées diamantées en toit

Mouvement Mécanique, manufacturé, remontage manuel, Tourbillon volant 60

secondes, HUB Solo T exécution spéciale

Dimensions Diamètre : 13 ¼ ''' (Ø 30.00 mm)

Épaisseur : 7.10 mm

Nb composants 148

Nombre de pierre 24 rubis

Balancier Masselotte de réglage Gyromax

Alternances 21'600 A/h (3Hz)

Cage Tourbillon Ø 13 mm

Réserve de Marche 120 heures

Bracelet Réglable en caoutchouc naturel noir lisse avec logo Hublot

Fermoir Or blanc 18 K avec coiffe sertie de 30 diamants baguette noirs (3,5 cts),déployant Or blanc 18 K
Hublot presents the quintessence of "invisible visibility" in a uniform range of black tones!
The watchmaking brand and the setting workshop Bunter SA have together developed a World Première with a completely invisible setting, using only black diamonds.
It's a world "first", and a technological and artistic achievement. The dream of combining key Hublot concepts – invisible visibility, "All Black", watchmaking tradition and state-of the- art technology – has become reality thanks to the creativity, the ingenuity and a touch of the "crazy" which spurred on its designers to create such a masterpiece.
The high level of micro-mechanic sophistication, combined with the dexterity of the human hand, has resulted in the One Million $ Black Caviar Bang.
Its setting is very complex. The difficulty resides in the unusual lines of the Big Bang case – round but with sharp angles. The white gold, one-piece construction of the case does not reveal one grain of gold, and the diamonds, cut in mysterious ways, seem to hold together as if by magic. The only visible feature is the black and deep tones of the diamonds, shining in their harmonious alignment.
This unique piece, which houses a Tourbillon, symbolises the fusion between watchmaking and jewellery, between tradition and technology, and between glittering and invisibility. The vibration which emanates from it gives rise to an emotion tinged with fascination. As Jean-Claude Biver says: "When each element is crafted individually and in coherence with the one right next to it, this is invisible from the outside but creates a vibration of harmony which is visible and gives rise to emotion in those who perceive it".
Creating this exceptional watch demanded over 2000 hours of meticulous work, from design to final adjustment, without forgetting the research and development, programming of the machines, choice of tools, diamond cutting, optical checking of each part, and setting and casing. 544 VVS TW-IF quality baguette diamonds adorn the watch's case, dial, crown and deployant clasp.
Case 18K white gold set with 322 black diamond baguettes (25.11 cts)

Crystal Sapphire crystal with interior anti-reflection treatment

Back 18K white gold with sapphire crystal, interior anti-reflection treatment

Crown 18K white gold set with 13 black diamond baguettes (1.7 cts)

Dial 18K white gold, set with 179 black diamond baguettes (5.48 cts), circular

arc setting at 10:00 indicating the power reserve

Hands Faceted, rhodium-plated diamond polished skeleton hands

Movement Mechanical, manufactured, manual winding, flying Tourbillon 60 seconds,

special execution HUB Solo T

Dimensions Diameter: 13 ¼ ''' (Ø 30.00 mm)

Number of stones 24 rubies

Balance Gyromax regulating inertia-block

Vibrations 21,600 A/h (3Hz)

Strap Adjustable smooth natural black rubber with Hublot logo

Clasp 18K white gold with cover set with 30 black diamond baguettes (3.5 cts),

18K white gold deployant