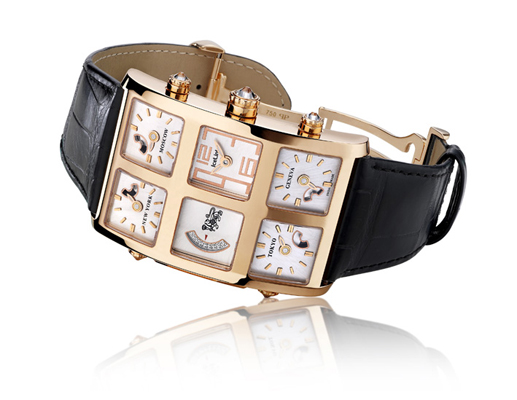 Alliant folie créatrice de Los Angeles à la complexité du savoir-faire suisse, le joaillier horloger Icelink lance en première mondiale un mouvement mécanique rectangulaire entrainant 5 fuseaux horaires simultanément. Reconnaissable parmi toutes, cette nouvelle pièce signée Icelink est une évolution « Swiss Inside » de la gamme 6Timezone. Disponibles avec ou sans sertissage de diamants en or blanc ou or rose cette nouvelle édition illustre l'évolution de la marque dans la complexité décomplexée.
Première mondiale : Le premier mouvement mécanique rectangulaire à trois pans inclinés
Toujours en quête d'un nouveau défi, à l'affût d'une nouvelle idée qui sort de l'ordinaire, les designers de la 6Timezone, pièce d'exception aux contours uniques, présentent leur première mondiale pendant le salon mondial Baselworld. En effet, la société Icelink de Genève se dote d'un mouvement rectangulaire, incurvé, à remontage manuel. Le boîtier galbé a en effet imposé aux créateurs du mouvement de repousser les contraintes mécaniques et d'innover en matière horlogère. Des pignons coniques issus de l'industrie mécanique permettent de gérer simultanément le fuseau à 3 heures logé à plat et les quatre autres fuseaux situés à 11 et 13 heures, ainsi que 17 et 19 heures disposés, eux, respectivement sur deux autres pans inclinés. Autre particularité de ce modèle mécanique, le guichet à 3 heures est le seul à disposer d'une aiguille des minutes. Les 4 autres sont pourvus d'un disque indicateur jour/nuit. Cette spécificité confère à ce modèle 6Timezone une esthétique toute épurée.
Le poussoir localisé à 3 heures permet de remonter le mécanisme et en même temps de régler l'heure des 5 fuseaux, dont l'heure locale. Une sophistication supplémentaire offre même la possibilité à chacun des quatre autres poussoirs de régler l'heure indépendamment des quatre autres. Ce premier calibre Icelink porte le nom de ILMM1 et dispose d'une réserve de marche de 50 heures.
Le boîtier est disponible en or rose ou or blanc de 18K, pavé de diamants de différentes tailles pour un total de 6 carats. Le fond incurvé vissé offre deux ouvertures sur le mouvement mécanique. Les 5 couronnes et poussoirs, la boucle déployante sont également en or 18K. Le bracelet est en crocodile noir.
Icelink – Los Angeles Outside, Swiss Inside
Depuis son siège genevois, la marque horlojoailière Icelink est l'ultime expression de deux mondes – la folie créatrice de Los Angeles et l'univers de l'industrie horlogère suisse et son savoir-faire séculaire. Les designs de la marque découlent de 25 ans d'expérience dans la joaillerie et façonne sa pensée en dehors des sentiers battus. Icelink est l'expression d'un luxe audacieux et se destine à tous ceux qui souhaitent vivre leur vie sans contraintes ni frontières.
---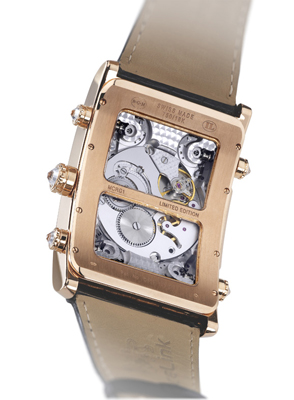 The rectangular mechanical movement with its six functioning zones-five displaying the hour and minutes and the sixth displaying seconds-is a world first. Combining the creative extravagance of Los Angeles with the sophistication of Swiss savoir-faire, the jewellery watchmakers from Icelink are launching a rectangular mechanical movement that powers all six zones simultaneously. With its unique exterior, this new timepiece represents a "Swiss Inside" evolution of the 6Timezone range. Available in white or rose gold, with or without diamond settings, the 6Timezone Mechanical (6TZM) is a testament to the brand's progress.
World Premiere: First Rectangular Mechanical Movement with three inclined sides.
Constantly heading for new challenges and creative out-of-the-box thinking, Andy Sogoyan, founder of the 6Timezone, an exceptional timepiece with unique contours, is presenting their world premiere during the Baselworld international show. In fact, the Geneva-based company Icelink has adopted a curved rectangular movement with manual rewinding. The shapely case has obliged the creators of the movement to push back the mechanical limits and produce an innovation in watch-making. Conical pinions from the mechanical industry make it possible to simultaneously manage the time zone at 3 o'clock positioned horizontally and the four other time zones positioned at 1 and 3 as well as at 5 and 7 positioned respectively on two other inclined sections. Another particularity of this mechanical model, the zone at 3 o'clock, is the only one with a minute hand. The other 4 have a disc with night/day indicator. This special feature gives this 6Timezone model a very refined aesthetic.
The button positioned at 3 o'clock allows you to wind the mechanism and at the same time set the time of the 5 time zones, including the local time. An additional sophistication even allows each of the four other buttons to set the time independently. This first Icelink calibre is called ILMM1and has a power reserve of 50 hours.
The case is available in 18K white or rose gold, paved with diamonds of different sizes, available with a total of 6 carats. The screw-down curved back offers two openings to reveal the mechanical movement. The timepiece has five crowns, buttons, and folding clasp, all in18K gold, and a black crocodile or alligator strap.
Icelink – Los Angeles Outside, Swiss Inside
The Geneva based "gem watch" company Icelink is the ultimate fusion between two worlds-the craziness of Los Angeles, hometown of creativity, and the universe of the Swiss watch-making industry and its centuries-old know-how. The creative strength of the brand derives from 25 years of jewellery expertise and out-of-the-box creative thinking. Icelink stands for audacious luxury, and is dedicated to all who like to live life without boundaries or restrictions.