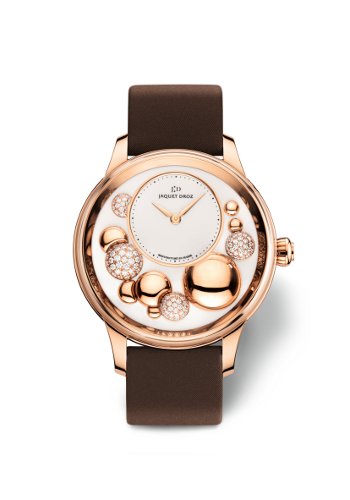 Exubérante, sensuelle, élégante, mariant féminité extrême et authentique défi technique, l'Heure Céleste embrasse le rêve ultime : celui de l'infinité. Un rêve partagé depuis toujours par l'humanité, auquel ce modèle d'exception consacre l'entier de son cadran, toile vierge laquée de noir sur laquelle s'épanouit une galaxie de planètes en or blanc ou serties de diamants. Bousculant les fondements de l'architecture horlogère et affranchissant l'Heure Céleste des limites graphiques qu'impose la lunette, une glace saphir de conception novatrice permet à la lumière d'animer ce spectacle flamboyant sous des angles inédits, sublimant le jeu de volumes imaginé par les artisans de la Manufacture.
Cette prouesse technique puise ses références au cœur même de l'ADN de Jaquet Droz, qu'il s'agisse du design ou des codes représentatifs de la marque avec le motif typique de l'étoile. À cette trame narrative, Jaquet Droz a ajouté les nouvelles dimensions d'une vision contemporaine. Ligne ultramoderne, volumes surprenants, rondeurs généreuses, l'Heure Céleste conjugue tous les possibles, à commencer par celui d'une montre tournée tout entière vers la beauté mystérieuse de l'immensité stellaire.
Ce rêve tridimensionnel, édité en Numerus Clausus de 8 exemplaires uniquement, est enserré dans un boîtier en or gris de 41 mm. Disposant d'une réserve de marche de 68 heures, il est mis en lumière par ses sphères serties d'une pluie d'étoiles. Pour ce nouveau garde-temps de haute couture joaillière, délicieusement féminin et extravagant, les artisans ont donné forme au désir le plus inouï : porter l'univers à son poignet.
DONNEES TECHNIQUES :
Numerus Clausus à 8 exemplaires
Référence
J005024520
Calibre
Jaquet Droz 2653, mouvement mécanique à remontage automatique,
double barillet, masse oscillante en or gris 22 carats
Indications
Heures et minutes décentrées
Empierrage
28 rubis
Réserve de marche
68 heures
Fréquence
28 800 a/h
Boîtier
Or gris 18 carats, diamètre Ø 41 mm
Numéro individuel de la série limitée gravé sur le fond du boîtier
Etanchéité
Jusqu'à 30 mètres
Cadran
Laque noire, sphères en or gris 18 carats, serties de 123 diamants (0.65 carats)
Aiguilles
Or gris 18 carats
Bracelet
Satin gris rembordé main
Fermoir
Boucle ardillon en or gris 18 carats, sertie de 24 diamants
(0.15 carats)
Diamants
IF à VVS1, Full cut, D à G
---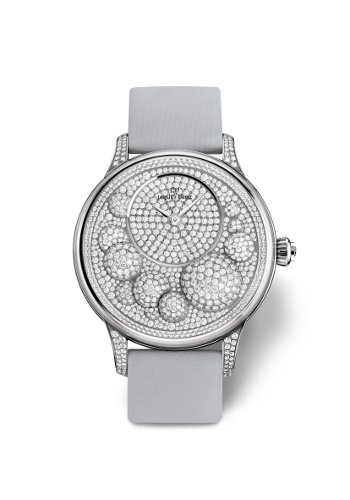 Exuberant, sleek, elegant, and ultra-feminine, L'Heure Céleste rises with virtuosity to authentic technical challenges and reaches out to embrace infinity, the ultimate dream of all mankind. A dream that inspired the dial of this exceptional model in its entirety, a virgin canvas lacquered in black against which a galaxy of planets in white gold or set with diamonds scintillates. Rewriting some of the basic rules of watchmaking design, L'Heure Céleste is endowed with a highly innovative sapphire crystal that liberates it from the graphic constraints imposed by a bezel. This special crystal enables natural light to illuminate the magnificent dial display from unusual angles and to stress the interplay of volumes imagined by the craftsmen at the Manufacture.
To achieve this feat of technical prowess, Jaquet Droz drew on its rich heritage of design and aesthetic codes that have become part of the brand signature, such as the star motif, to establish a narrative framework, then added a new dimension born of contemporary vision. With its ultra-modern lines, unusual volumes and generous curves, L'Heure Céleste is a magnificent creation that embodies all possibilities, especially those suggested by the mysterious beauty of an immense, star-studded sky.
Hand-crafted in three dimensions and issued in a Numerus Clausus of 8, this dream, set off by spheres and a sprinkling of stars, comes in a 41 mm white gold watchcase and features a 68 hour power reserve. For this new Haute Couture jewellery watch, delightfully and extravagantly feminine, the artisans at the Jaquet Droz Manufacture have succeeded in giving visual expression to the wildest desire of all humankind: to wear the mystery of the universe on one's wrist.
Technical Data :
Numerus Clausus of 8
Reference
J005024520
Movement
Jaquet Droz 2653, self-winding mechanical movement,
double barrel, 22-carat white gold oscillating weight
Indications
Off-centered hours and minutes
Jewelling
28 jewels
Power reserve
68 hours
Frequency
28,800 v.p.h
Case
18-carat white gold, diameter Ø 41 mm
Individual limited series number engraved on the case-back
Water resistance
To 30 m / 100 feet
Dial
Black lacquer, 18-carat white gold spheres, set with 123 diamonds (0.65 carats)
Hands
18-carat white gold
Strap
Rolled-edge hand made grey satin strap
Buckle
18-carat white gold ardillon, set with 24 diamonds
(0.15 carats)
Diamonds
IF to VVS1, Full cut, D to G