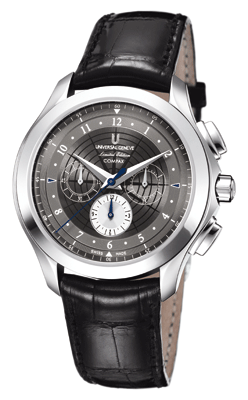 Lancé en 1936, le chronographe Compax affichait, et c'était une révolution, un troisième compteur totalisant les heures et les minutes chronométrées. Soixante-trois ans (et une riche histoire) plus tard, Universal Genève sort une version à la fois luxueuse et sobre, respectueuse de la tradition et contemporaine, en une édition exclusive limitée à 10 pièces.
Des terminaisons haut luxe pour le mouvement
La Compax Edition limitée abrite un très beau mouvement offrant une réserve de marche de 42 heures: le Calibre chronographe à remontage manuel UG 84.2. Les terminaisons haut luxe ont été réalisées dans la grande tradition horlogère: les ponts sont décorés Côtes de Genève droites et rhodiées, les platines sont sablées fin et rhodiées, et les pièces du mécanisme du chronographe côté ponts sont en acier traits tirés de long et anglés main. Enfin, le pont du chronographe est doré et gravé "Universal Genève – UG 84 – 17 Jewels".
Un jeu de lumière sur le cadran
Inspiré de la version moderne de l'Aero-Compax 24H lancée en 2006, le cadran de la Compax Edition limitée est un mélange subtil de contemporain et de classicisme, jouant la carte de la lumière par l'alternance de deux tonalités d'anthracite. Au centre, l'étoile de Copernic touche du bout de chacune de ses branches les index en chiffres arabes, traversant à 3h le compteur des 30 minutes et à 9h celui de la petite seconde. L'éclat argenté du compteur des 12 heures renforce encore le contraste de l'ensemble. En acier bleui, l'aiguille diamantée de la seconde chronographe au centre trouve un élégant écho dans celle des 12 heures ainsi que les deux index à 3h et 9h.
Une boîte tout en nuances
Montée uniquement sur un bracelet en cuir de crocodile véritable cousu main avec doublure en veau Alzavel, la boîte, élégante et sobre, a été façonnée dans un matériau exclusif: l'or blanc 18 ct. A noter que la boucle ardillon finie main, également en or blanc 18 ct, a été exclusivement dessinée pour ce garde-temps.
Enfin, outre l'édition limitée à 10 pièces en or blanc 18 ct, la nouvelle Compax Universal Genève est aussi disponible en acier (190 pièces), or rose (70 pièces) et or jaune (20 pièces).
Mouvement : Chronographe à remontage manuel Calibre UG 84.2 finitions haut luxe ; ponts décorés Côte de Genève droit et rhodié, platine sablé fin et rhodié, pièce de mécanisme chronographe côté ponts en acier traits tirés et anglés main
Pont chronographe gravé et doré « Universal Genève- 84 -17 Jewels »
Affichage : heure, minute et petite seconde à 9 h
Chronographe : Seconde chronographe au centre, compteur 12 heures à 6h,30 minutes à 3h et 60 secondes à 9h
Réserve de marche : 42 heures
Fréquences : 21'600 A/h (3Hz)
Empierrage : 17 rubis
Cadran : Anthracite avec compteur 6h argenté, motif « étoile de Copernic » en fond
Aiguilles : HM : type dauphine, facettées, diamantées et rhodiées
SC chronographe : parfil en acier bleui
Compteurs : 30 min. et 60 sec. diamantés et rhodiés ; 12h. en acier bleui
Boîte : Or blanc 18 ct, glace saphir bombée traitée antireflet, couronne exclusive, fond transparent permettant d'admirer le mouvement
Etanche jusqu'à 50 m (5 ATM)
Bracelet : Crocodile véritable noir brillant, avec fermoir à boucle déployante en or blanc 18 ct exclusive
Variantes : Edition limitée à 10 pièces, également disponible en or rose (70 pces), or jaune (20 pces) et en acier (190 pces)
---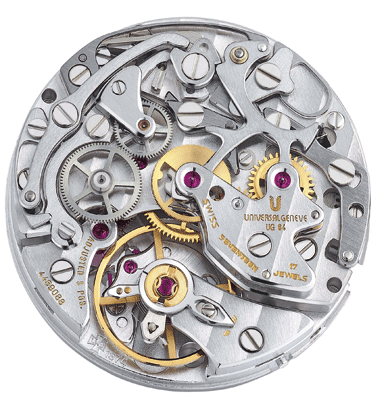 First launched in 1936, the Compax chronograph displayed a revolutionary third counter totalising the hours and minutes that it timed. Building on a rich history that has continued to unfold ever since, Universal Genève is issuing a 10-piece limited edition of a version that is at once luxurious and understated, respectful of tradition and eminently contemporary.
High-end movement finishing
The Compax Limited Edition houses an extremely beautiful movement with a 42-hour power reserve: hand-wound chronograph Calibre UG 84.2. The high-end finishes have been crafted in harmony with the noblest watchmaking traditions: the bridges are rhodium-plated and adorned with straight Côtes de Genève; the rhodium-plated plates are finely sandblasted; and the chronograph mechanism components visible on the bridge side are in hand-drawn and bevelled steel. Finally, the chronograph bridge is gilded and engraved with the inscriptions "Universal Genève – UG 84 – 17 jewels".
Luminous effects on the dial
Inspired by the modern version of the Aero-Compax 24H launched in 2006, the dial of the Compax Limited Edition is a subtle blend of contemporary and classic features, catching the light with two alternating shades of anthracite. In the centre, the tip of each point of the 12-pointed star touches the Arabic numerals, crossing through the 30-minute counter at 3 o'clock and the small seconds subdial at 9 o'clock. The silvery radiance of the 12-hour counter reinforces the overall contrasting effect. The blued steel gleam of the diamond-polished central chronograph hands is elegantly echoed in the 12-hour counter hand and the two pointers at 3 and 9 o'clock.
wealth of subtle design features
Available exclusively on a genuine hand-sewn crocodile leather strap with Alzavel calfskin lining, the elegantly understated case is crafted from an exclusive material: 18-carat white gold. The hand-finished pin buckle, also in 18-carat white gold, was designed exclusively for this timepiece. Finally, in addition to the 10-piece limited edition in 18-carat white gold, the new Compax Universal Genève is also available in three other limited series in steel (comprising 190 watches), rose gold (70) and yellow gold (20).
Movement: Hand-wound chronograph Calibre UG 84.2 with high-end luxury finishing: rhodium-plated, diamond polished bridges adorned with a straight "Côtes de Genève motif; rhodiumplated
finely sandblasted mainplate, chronograph mechanism component visible on the bridge side featuring
hand-drawn and bevelled steel bridges.

Chronograph bridges gilded and engraved with the inscriptions "Universal Genève-UG 84 – 17 Jewels"

Time display: Central hour and minute hands, small seconds at 9 o'clock

Chronograph: Central chronograph seconds, 12-hour counter at 6 o'clock, 30-minute counter at 3 o'clock

Power reserve: 42 hours

Frequency: 21,600 v/h (3Hz)

Jewels: 17 jewels

Dial: Anthracite, with silver-coloured subdial at 6 o'clock, "twelvepointed star" background motif

Hands: Hours and minutes: dauphine-type faceted, diamond- polished and rhodium-plated Chronograph seconds: parfil-type in blued steel. Counters: diamond-polished and rhodium-plated for the 30-minute counter and small seconds subdial; blued steel on the 12-hour counter

Case: Round in 18K white gold, cambered sapphire crystal with anti-reflective treatment, exclusive crown and transparent case-back revealing movement.

Water-resistant to 50 metres (5 ATM)

Strap: Glossy black crocodile leather strap with exclusive 18K white gold pin buckle

Versions: Limited edition of 10, also available in rose gold (70 watches), yellow gold (20 watches) and steel (190 watches)