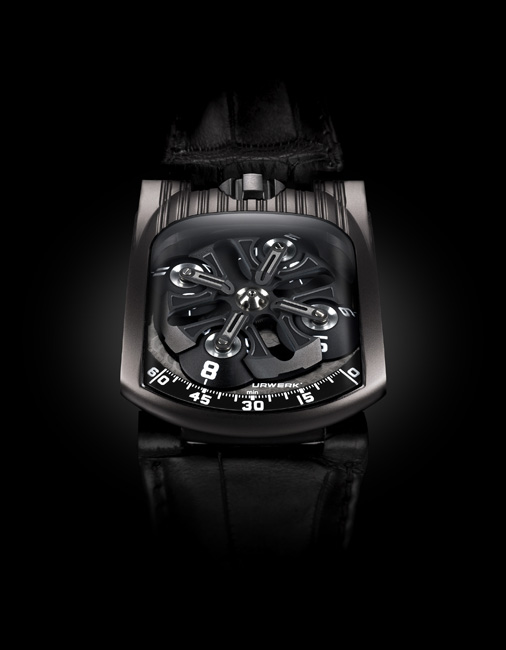 La UR103 est depuis l'année de sa présentation, en 2003, la collection emblématique de la maison URWERK. La UR103 est l'Egérie, la pièce annonciatrice de la « Nouvelle horlogerie contemporaine». Révolutionnaire en son temps, elle est aujourd'hui un jalon, une pièce révérée, source d'inspiration pour toute une nouvelle génération de garde-temps. La UR103 ne se définit pas comme un instrument de mesure, elle est émotion. Elle est l'Art du temps. Cette ligne emblématique s'agrandit aujourd'hui avec la présentation de la UR103T.
La UR103T, « T » pour Temps, Témérité, Tellurique ? Le « T » de la 103T est un mystère qui se dévoile au premier regard. Observez le cœur de cette création, vous y trouvez une nouvelle forme de vie. Une structure mouvante y a pris place. La Tarantula!
La dernière née de la collection UR103 emprunte plus d'un gènes ADN à la célèbre représentante du monde arachnéen :
Une esthétique. La croix centrale de la UR103 classique – croix orbitale en titane – a été remplacée par toute une structure de métal. Une composition en ARCAP, alliage non ferreux, qui enserre les quatre satellites des heures, n'en laissant apparaître qu'un, le premium, celui de l'heure exacte qui défile le long du rail de la minute. Sur la UR103T, le temps reprend toute sa dimension conceptuelle et philosophique. Ne s'affiche que l'heure présente qui entraîne celle du passé dans l'ombre et laisse augurer de l'heure future.
Une grâce. Sur la UR103T, chaque satellite a acquis son autonomie et se déplace indépendamment. Tandis que le premium défile devant le chemin des minutes et indique l'heure de façon analogique et digitale, les trois autres satellites effectuent une danse à quatre temps. Chacun, une fois passé le marqueur des 60 minutes, accomplira une rotation de 480° : quatre révolutions de 120° sur son propre axe, avant de se retrouver face au marqueur 0 des minutes. La masse en déplacement ici est 311 fois plus conséquente qu'un jeu d'aiguilles classiques. Ultra précision d'usinage, équilibre et minutie du montage sont alors des impératifs pour assurer l'isochronie de cette pièce d'exception.
Une force. Les 4 satellites de la UR103T sont façonnés dans l'aluminium puis montés sur une croix de Genève en bronze béryllium. Le module est suspendu à une structure en ARCAP P40, alliage inoxydable et amagnétique. Il prend place sur une platine également en ARCAP P40. Mais le vrai défi de la UR103T est surtout humain. La UR103T c'est l'accomplissement d'un maître horloger, Felix Baumgartner, d'un visionnaire, Martin Frei et des huit personnes formant l'équipe URWERK.
La UR103T habillée de son cocon d'acier part à la conquête du monde. Vous adorerez tomber dans sa toile !
Modèle: UR103T

Boîtier: acier traité AlTiN (Aluminium, Titane, Nitride)

Dimensions: 50mm x 36mm x 13.5mm

Mouvement: Calibre 3.03 à remontage manuel ; 21,600bph/3Hz

43 heures de réserve de marche

Triple platine en ARCAP P40 noir

Indication de l'heure sur satellites mus par des « Croix de Genève »

Control Board: Titane, indicateur de réserve de marche, cadran de réglage 15 minutes et secondes, vis d'ajustement de l'heure
Since the presentation of the first UR103 in 2003, the 103 collection has gone on to become emblematic of URWERK. The UR103 heralded the birth of a new era in contemporary horology; it was revolutionary when launched and remains peerless today. The UR103 marks a watershed: it is a landmark, a watch of dreams and a source of inspiration for a new generation of avant-garde timepieces. The UR103 cannot be defined as an instrument for measuring time; it is a source of emotion, a work of art. Now the iconic UR103 collection will expand once again with the launch of the new UR103T.

The UR103T: 'T' for Time? 'T' for Temerity? 'T' for Tellurian? The 'T' in the 103T is at first a mystery, but only until the first look down through the massive sapphire crystal into the mechanism below. There you will sense a shape before you see it. A form slowly emerges from the orbital cross and stretches its mesmerising legs: 'T' for Tarantula! URWERK's latest addition to the UR103 collection has a few genetic codes borrowed from one of the most famous members of the world of arachnids.

The Aesthetics. In the classic UR103, the central element is an orbital cross in titanium. In the new UR103T, the titanium cross has been replaced by a completely redesigned structure in ARCAP, a very stable copper/nickel alloy. The dark ARCAP wraps around the hour satellites in a protective embrace – though we can perhaps imagine something more sinister! This new configuration ensures that the numbers on the hour satellites can only be seen when they are required to tell the time while passing the arc of the minutes. With the UR103T, time takes on a different conceptual and even philosophical dimension to that of the open satellite system on the classic UR103. With the UR103T, the past and the future remain hidden – only the present is revealed.
The Technique. The actual mechanism for rotating the satellites has been completely modified on the UR103T. With this model the satellites rotate simultaneously behind the scenes in multiple stages, in preparation for their turn to indicate the time. They actually perform a four-beat 480° pirouette. Each satellite turns four 120° turns in the period between leaving the minute arc and arriving again with a new numeral displaying. The orbital satellite complication is over 300 times heavier than traditional hands, a factor that requires absolute precision in the manufacture of its minuscule components, and in assembling, balancing and regulating the complication to obtain the excellent chronometric performance URWERK demands of its exceptional timepieces.

The Force. The four satellites of the UR103T are made of aluminum and mounted on their own bronze/beryllium Geneva cross. The mechanism is then suspended from the orbital cross structure in ARCAP 40, a material that is light, non magnetic and corrosion resistant, and is mounted on an ARCAP plate.

However, the essential feature of the UR103T is not technical but human, a testament to URWERK's master watchmaker Felix Baumgartner, visionary chief designer Martin Frei and their talented team. In its AlTiN coated steel cocoon, the UR103T is ready to conquer the world. The Tarantula is out!

UR103T technical specifications
Model: UR103T

Case: Stainless steel treated with AlTiN (Aluminium, Titanium, Nitride)

Dimensions: 50mm x 36mm x 13.5mm (including lugs)

Movement: Calibre 3.03; manual winding; 21,600bph/3Hz

Power reserve 43 hours

Triple bridges in black ARCAP P40

Time Indication by hour satellites rotated by Geneva crosses

Control Board: Grade 5 titanium, power reserve indicator, 15-minute and seconds dials for precise time-setting, user adjustable fine-tuning screw