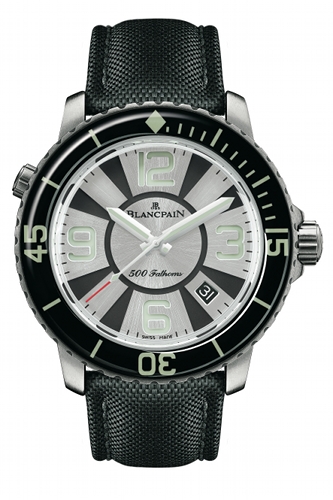 Pour la cinquième année consécutive, Blancpain jette l'ancre dans le Vieux Port de Cannes.
Partenaire de la 32e édition du Festival International de la Plaisance, Blancpain annonce pour l'occasion, le lancement mondial de sa toute nouvelle montre de plongée 500 Fathoms. Cerise sur la gâteau, la Manufacture du Brassus présente en grande première sur son stand, une série limitée 500 Fathoms Cannes 2009 éditée à 50 pièces, dédiée aux amoureux de la Grande Bleue.
L'histoire de Blancpain s'écrit à l'encre bleue…marine. Depuis 1953, année de présentation de la première montre de plongée moderne, la Fifty Fathoms, Blancpain célèbre les liens historiques qui l'unissent au monde marin. Ainsi, en 2007, Blancpain a choisi la scène du Festival de la Plaisance de Cannes pour le lancement mondial de sa Fifty Fathoms nouvelle vague. Cette année, pour sa 5e participation au salon de la grande plaisance, Blancpain annonce le lancement de sa toute nouvelle 500 Fathoms et présente une série limitée de cette pièce, éditée à 50 exemplaires.
Sportive par excellence, la 500 Fathoms fait une entrée remarquée dans la collection des montres de plongée Blancpain. Nouveau visage, nouvelles dimensions, nouvelles performances, la 500 Fathoms, peut en quelque sorte, être considérée comme la « grande soeur » – en taille – de la célèbre Fifty Fathoms*. Imposante avec ses 48 mm de diamètre, la nouvelle 500 Fathoms est étanche à 1000 mètres.
Une valve de décompression automatique, placée à l'intérieur du boîtier en titane brossé, garantit la sécurité et la fiabilité de la montre, sans nécessiter de manipulation à son détenteur.
Pour une lisibilité accrue, Blancpain a dessiné de grands chiffres arabes phosphorescents, gravés dans des appliques en métal soleillé. Le revêtement luminescent appliqué sur les index, les repères de la lunette et les aiguilles, ainsi que la pointe rouge de la trotteuse offrent un confort de lecture optimal en toutes circonstances. Le fond noir luminescent du cadran révèle sa fluorescence dans l'obscurité.
Façonnée en titane et en saphir inrayable, la lunette tournante unidirectionnelle est crantée, facilitant son maniement et légèrement bombée pour limiter les impacts.
Le fond du boîtier en saphir laisse admirer le Calibre automatique 1315 et sa masse oscillante en forme d'hélice de bateau entièrement décorés à la main. La 500 Fathoms Cannes 2009 est équipée d'un bracelet toile de voile noire doublée de caoutchouc. Un deuxième bracelet, en caoutchouc, et l'instrument pour le fixer, parachèvent la panoplie, livrée dans un coffret étanche ultrasolide résistant aux conditions extrêmes.
---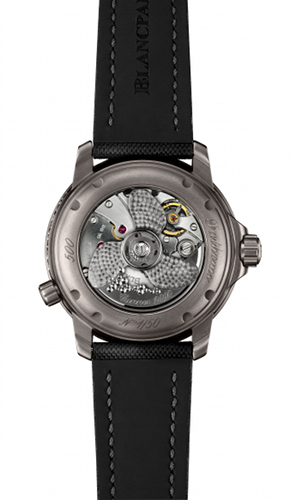 For the fifth consecutive year, Blancpain is dropping anchor in the Old Port of Cannes. A partner of the 32nd edition of the International Boat Show, Blancpain is marking the occasion by announcing the worldwide launch of its brand-new 500 Fathoms diver's watch. And as the icing on the cake, the Manufacture from Le Brassus is presenting a world first on the Blancpain booth:
a 500 Fathoms Cannes 2009 limited series of 50 dedicated to sea-lovers.
The Blancpain story is written in "navy" blue since 1953, the debut year of the first modern diver's watch, the Fifty Fathoms. Blancpain regularly celebrates its historical ties with the maritime world. In 2007, Blancpain naturally chose the Cannes International Boat Show to launch its "new wave" Fifty Fathoms watch. This year, to mark its fifth participation in the prestigious yachting event, Blancpain is announcing the launch of its brand-new 500 Fathoms and presenting a special edition of this model, issued in a limited series of 50.
The resolutely sporting 500 Fathoms is making a noteworthy entrance into the collection of Blancpain diver's watches. Endowed with a new face, new dimensions and new performances, the 500 Fathoms may in some ways be considered the "big sister" (size-wise) of the famous Fifty Fathoms*. Measuring an impressive 48 mm in diameter, the new 500 Fathoms is water-resistant to 1000 metres. An automatic decompression valve, placed inside the brushed titanium case, guarantees the security and reliability of the watch without requiring any handling on the part of the wearer.
To enhance legibility, Blancpain has designed large phosphorescent Arabic numerals engraved into sunbrushed metal appliques. The luminescent coating applied to the hour-markers, bezel markings and hands, as well as the red tip of the central seconds hand, ensures ideally convenient read-off in all circumstances. The black luminescent base of the dial reveals its fluorescence only in the dark. The oneway rotating bezel made from titanium and scratch-proof sapphire crystal is notched to facilitate
handling and slightly cambered to reduce the risk of impacts.
The sapphire crystal back enables one to admire the entirely hand-decorated self-winding Calibre 1315 with its propeller-shaped oscillating weight. The 500 Fathoms Cannes 2009 model comes fitted with a black rubber-lined sail canvas strap, while an additional rubber strap and a dedicated tool to secure it lend the finishing touch to this set delivered in an ultra-sturdy watertight presentation box designed to withstand extreme conditions.