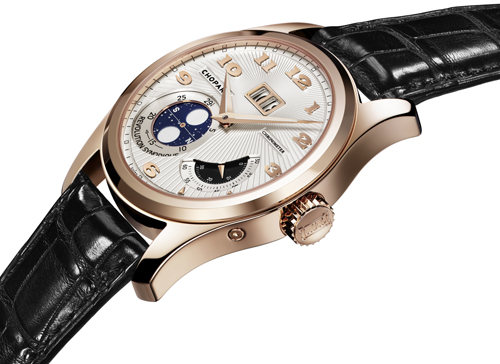 Dans sa boîte en or rose 18 ct, la nouvelle L.U.C Lunar Big Date dégage une poésie qui transportera les amateurs éclairés. Complication à part entière, la phase de Lune est ici si précise que l'écart entre le véritable cycle lunaire et l'indication du garde-temps n'est que d'un jour tous les 122 ans. Un modèle d'exception, disponible à 500 exemplaires seulement.
Quoi de plus poétique que d'être en permanence en contact avec la Lune ? Avec sa portion de ciel sur le cadran, la nouvelle L.U.C Lunar Big Date rappelle les liens immémoriaux qui unissent notre temps aux astres. Complication à part entière, la phase de Lune est ici associée aux fonctions heures et minutes centrales, grande date à 12h et petite seconde à 4h30. Le calibre manufacture L.U.C 96 LD à remontage automatique est logé dans un boîtier cossu de 42 mm en or rose 18 ct, et habillé d'un cadran argenté élégamment constellé d'index en chiffres arabes.
La vision de la Lune vue de la Terre change au cours de sa révolution : la face visible peut être complètement éclairée par le Soleil (pleine Lune), entièrement plongée dans la nuit (nouvelle Lune), ou seulement partiellement éclairée (diverses phases de la Lune). L'intervalle entre deux phases identiques de la Lune – appelé mois ou révolution synodique – est égal à 29 jours, 12 heures, 44 minutes et 2,8 secondes.
Parvenir à une telle précision sur une montre-bracelet est d'une complexité considérable, prouesse que Chopard Manufacture a su relever avec talent. Le modèle L.U.C Lunar Big Date est ainsi doté d'un dispositif extrêmement précis, dans lequel la roue qui entraîne le disque portant les lunes comprend 135 dents. La précision d'indication est alors telle que l'écart entre le mécanisme et le véritable cycle lunaire est d'un seul jour en 122 ans. Les différentes phases de Lune sont ainsi visibles aussi bien pour l'hémisphère Nord que pour l'hémisphère Sud dans un guichet particulièrement grand pour une lecture aisée. De plus, dans la partie Nord du disque, on aperçoit la constellation de la Grande Ourse, tandis que la partie Sud montre la Croix du Sud.
Deux barillets superposés coaxiaux assurent une énergie 65 heures durant au cœur du calibre, battant à 28'800 alternances par heure. Le mouvement, certifié par le Contrôle Officiel Suisse des Chronomètres (COSC), est visible à travers le fond ouvert. Disponible sur un bracelet en alligator cousu main avec boucle déployante, en brun ou en noir, la L.U.C Lunar Big Date est produite en série numérotée et limitée à 500 pièces.
Boîtier:
Boîtier en or rose 18ct
Diamètre total 42.00 mm
Epaisseur 10.90 mm
Etanche à 30 mètres
Couronne en or rose 18ct 6.00 mm
Poussoirs correcteurs en or rose 18ct
Glace saphir antireflet
Fond ouvert
Mouvement:
Mouvement automatique L.U.C 96 LD
Diamètre total 33.00 mm
Epaisseur 5.25 mm
Nombre de pierres 33 rubis
Fréquence 28'800 A/h
Réserve de marche env. 65 heures
Ponts décor « Côtes de Genève »
Certifié Chronomètre (COSC)
Cadran et aiguilles: 
Cadran argenté guilloché
Aiguille Dauphine pour les heures, minutes et la petite seconde
Fonctions et affichages:
Affichage de l'heure et de la minute au centre
Petite aiguille des secondes à 4h30
Phase de lune orbitale à 7 heures
Stop seconde
Bracelet et boucle:
Bracelet en alligator cousu main, disponible en brun ou en noir (20.00mm x 18.00mm)
Boucle déployante en or rose 18 ct.
Ref. 161918-5002 Edition limitée : 500 pièces
Nestling within its 18-carat rose gold case, the new L.U.C Lunar Big Date exudes a poetic touch that will captivate the most seasoned connoisseurs. A horological complication in its own right, the moon phase attains such high accuracy that the difference between the actual lunar cycle and the indication of the timepiece amounts to just one day every 122 years. This exceptional model is available in a limited edition of just 500.
What could be more inspiring than to stay in permanent touch with the Moon? With its portion of the night sky visible on the dial, the new L.U.C Lunar Big Date is a vivid reminder of the enduring ties between our time and the stars. The moon phase is associated here with the central hour and minute hands, a large date display at 12 o'clock and a small seconds indication between 4 and 5 o'clock. The proprietary self-winding L.U.C Calibre 96 LD is housed with a generous 42 mm case in 18-carat rose gold framing a silvered guilloché dial elegantly studded with Arabic numerals.
The vision of the Moon seen from Earth changes in time with its rotation: its visible side may be completely lit up by the Sun (full Moon), entirely plunged into the dark (new Moon) or only partially illuminated (various moon phases). The interval between two identical moon phases – called a month or a synodical revolution – is equivalent to 29 days, 12 hours, 44 minutes and 2.8 seconds.
Achieving such accuracy in a wristwatch is an extremely complex feat to which Chopard Manufacture has risen with significant talent. The L.U.C Lunar Big Date is thus endowed with an extremely precise device in which the wheel driving the moon-bearing disc comprises 135 teeth. The indication has such precision that the discrepancy between the mechanism and the real lunar cycle amounts to just one day in 122 years. The various moon phases are visible for both Northern and Southern hemispheres through a particularly large aperture ensuring easy readability. In addition, the Northern part of the disc features the Big Dipper constellation, while the Southern part displays the Southern Cross.
Two stacked co-axial barrels ensures a 65-hour supply of energy to the movement with its balance oscillating at a rate of 28,800 vibrations per hour. Chronometer-certified by the Swiss Official Chronometer Testing Institute (COSC), the movement is visible through the exhibition case-back. Fitted with a brown or black hand-sewn alligator leather strap complete with folding clasp, the L.U.C Lunar Big Date is issued in a limited, numbered series of 500, for its most discerning admirers.
Case:
18-carat rose gold case
Total diameter 42.00 mm
Thickness 10.90 mm
Water-resistant to 30 metres
Crown in 18-carat rose gold 6.00 mm
Corrector pushpieces in 18-carat rose gold
Glare-resistant sapphire crystal
Transparent case-back
Movement:
Self-winding L.U.C 96 LD
Total diameter 33.00 mm
Thickness 5.25 mm
Number of jewels 33
Frequency 28,800 vph
Power reserve approx. 65 hours
Bridges adorned with Côtes de Genève
Chronometer-certified (COSC)
Dial and hands: 
Silvered guilloché dial
Dauphine hands for the hours, minutes and small seconds
Functions and indications:
Central hour and minute hands
Small seconds hand between 4 and 5 o'clock
Orbital moon phase at 7 o'clock
Stop seconds
Strap and buckle:
Hand-sewn alligator leather strap, available in brown or black (20.00mm x 18.00mm)
Folding clasp in 18-carat rose gold
Ref. 161918-5002 Limited edition: 500