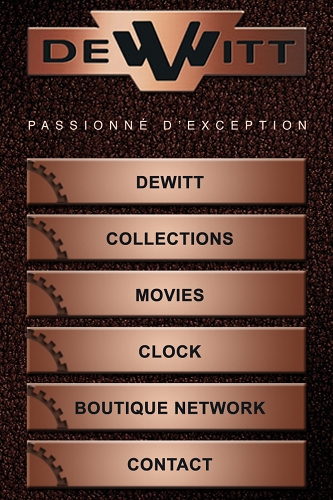 Précurseur de la Haute Horlogerie du 21e siècle, DeWitt se lance dans l'ère du numérique interactif en développant une application originale à télécharger gratuitement sur l'iPhone. La Maison genevoise devient ainsi l'une des premières marques horlogères au monde à se dévoiler sur cet outil de communication révolutionnaire.
Cette application numérique permettra aux 30 millions d'utilisateurs de l'iPhone et de l'iPod Touch de découvrir l'univers éclectique et audacieux de la Maison DeWitt. Disponible en téléchargement gratuit sur l'App Store, l'application « DeWitt » dévoile les collections de garde-temps de la Marque de façon ludique et interactive sur l'iPhone.
Au total, 25 modèles, soit des garde-temps de chaque collection DeWitt, sont présentés. Sur l'écran tactile de l'iPhone, l'utilisateur parcourt l'univers de la Marque au travers de différentes fonctions interactives : un simple clic suffit à découvrir les collections horlogères DeWitt, zoomer sur l'un des garde-temps présenté et accéder à leur fiche technique détaillée, tandis que la fonction « 3D » permet de découvrir la montre dans ses plus infimes détails. Un « Store Locator »  avec fonction GPS intégrée offre la possibilité de situer le point de vente le plus proche ainsi que le meilleur chemin pour y accéder. Les utilisateurs peuvent enfin entrer en contact avec les représentants de la Maison DeWitt de manière instantanée.
Touche d'originalité, l'onglet « Movies », au travers duquel DeWitt propose aux utilisateurs de l'iPhone de visionner les courts-métrages réalisés par la Marque Genevoise sur les modèles phares de ses collections.
Mis à jour régulièrement, l'application « DeWitt » permet en outre à la Maison horlogère d'informer en temps réel tant sa clientèle que ses collaborateurs situés aux quatre coins du monde sur le développement de ses produits. La mise en place de cette application multi-fonctionnelle permet à la société de s'ouvrir à un marché en constante évolution. Depuis juillet 2007, plus d'un milliard de téléchargements d'application ont en effet été enregistrés sur le site App Store, tandis que le nombre d'utilisateurs de l'iPhone ne cesse d'augmenter chaque jour.
Par cette initiative, DeWitt démontre ainsi une nouvelle fois sa créativité sans limite et son esprit novateur, tout en renforçant son identité d'horloger passionné. Un savant mélange de tradition et modernité.
---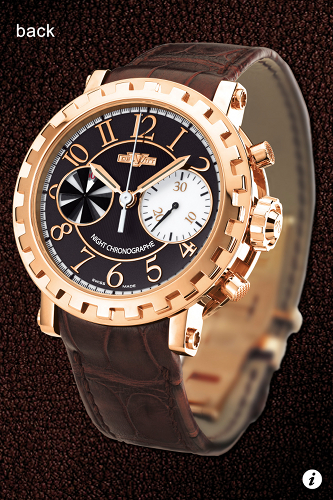 A pioneer of 21st century fine watchmaking, DeWitt launches into the interactive digital age by developing an original free-download iPhone application. The Geneva-based company thus becomes one of the world's first watch brands to reveal itself on this revolutionary communication device.
This digital application will enable the 30 million iPhone and iPod Touch users to discover the eclectic and daring world of the Maison DeWitt. Available for free download from App Store, the "DeWitt" application reveals the Brand's timepiece collections on the iPhone in a playful and interactive way.
25 models are presented in all, including watches from each DeWitt collection. On the IPhone touch screen, the user can explore the Brand universe by means of various interactive functions: a click is all it takes to present the DeWitt watch collections, to zoom in on one of the timepieces shown and to access its full set of technical specifications, while the 3D function offers a chance to explore the watch in detail. A "Store Locator" with integrated GPS function indicates the nearest point of sale as well as the best route to get there. Users can also make instant contact with representatives of the Maison DeWitt.
In a particularly original touch, the "Movies" thumbnail allows iPhone users to view short films made by the Geneva-based brand on the star models within its collection.
The regularly updated "DeWitt" application will also enable the watch brand to provide both its clients and its personnel around the world with real-time information on its product development. The implementation of this multifunctional application gives the company an opportunity to enter a constantly developing market. Since July 2007, the App Store has clocked up over one billion downloads, while the number of iPhone users continues to grow daily.
Through this initiative, DeWitt once again demonstrates its boundless creativity and its innovative spirit while reinforcing its identity as a passionately dedicated watchmaker, in a clever blend of traditional and modern elements.