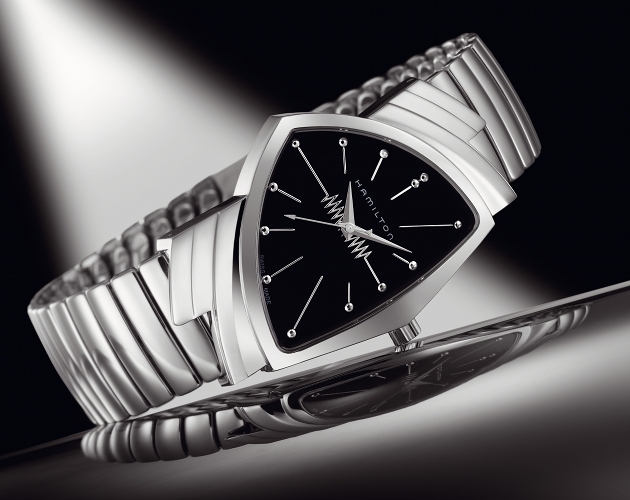 Rendant hommage à l'une des plus grandes icônes culturelles, Elvis Presley, Hamilton lance deux interprétations exclusives de la célèbre Ventura pour marquer le 75e anniversaire de la naissance du « King » en 2010. Ce garde-temps à la forme caractéristique arboré en 1961 par Elvis dans le film « Blue Hawaii » se décline en une version Quartz et une version automatique XXL. La "Elvis Anniversary collection" écrira sans aucun doute un nouveau chapitre dans l'histoire de deux légendes.
Ventura Elvis Anniversary Collection
La Ventura Quartz rend fidèlement hommage au modèle original de 1957, qui révolutionna l'horlogerie comme étant la première montre électrique actionnée par une pile. Le design du boîtier fait écho à celui de ses ancêtres des années 50. Il offre aujourd'hui des finitions en acier inoxydable ou PVD or jaune. Réplique de la première montre Ventura, le cadran noir est marqué d'indexes originaux allongés, terminés en une pointe arrondie et martelée, similaire aux légendaires horloges murales de l'époque. Le design nostalgique abrite un mouvement à quartz suisse moderne assurant la précision du 21e siècle.
Le choix entre le bracelet flexible en métal ou le bracelet en cuir noir et doré ou noir et argenté recèle sa propre histoire. La montre achetée par Elvis était en effet à l'origine dotée d'un bracelet en cuir qui, à la demande du King, aurait été remplacé par un bracelet en métal.
Ventura XXL Elvis Anniversary Collection
Pionnière dès ses débuts, la Ventura de Hamilton continue à faire parler d'elle plus d'un demi-siècle plus tard au travers d'une réinterprétation XXL. La Ventura XXL Elvis Anniversary Collection arbore des formes surprenantes, qui confèrent à son inspiration classique un caractère futuriste et imposant. Avec sa forme distinctive, ses surfaces lisses et ses dimensions XXL, le boîtier triangulaire PVD anthracite assure un look résolument très "Rock'n roll". La couronne angulaire s'étend en pointe, à 3 heures, sur le verre en saphir. Le cadran noir offre un design audacieux et un effet de fond rappelant celui d'une caisse de résonance high-tech. Une touche de rouge vif s'étend de 12 heures à 3 heures, réap-paraissant impudemment sur la pointe de l'aiguille des secondes. Célébrant la modernité, le boîtier se fond élégamment dans un bracelet en caoutchouc lisse noir stylé. Nul doute que cette édition limitée, produite seulement jusqu'à fin 2010, contribuera à entretenir la légende du King.
---
Hamilton is celebrating cultural icon, Elvis Presley, with two special models of the iconic Ventura watch, to mark what would have been the 'King's' 75th birthday in 2010. The distinctive, shield-shaped timepiece, worn by Elvis in the 1961 movie 'Blue Hawaii', comes in two new interpretations – a replica of the original 1950's model and a XXL version. The Ventura Elvis Anniversary Collection promises to contribute a new chapter to two legends.
Ventura Elvis Anniversary Collection
The Ventura Quartz is a faithful tribute to the original 1957 model, which made watch-making history as the world's first electrical, battery powered watch. Design detail of the case of the new model mirrors that of its 1950s ancestors and today comes in either stainless steel or a yellow gold PVD finish. A black dial also reminds of the 1950s Ventura timepieces, complete with digit markings all culminating in an embossed rounded point like the surrounds of the iconic wall-clocks of the era. These nostalgic looks enclose a modern Swiss quartz movement to ensure precision timekeeping for the 21st century.
The choice of attachment for the Ventura Quartz, with the possibility of a metallic flex bracelet or a bi-color leather strap in black paired with silver or gold color, has its own story to tell. The watch originally purchased by Elvis would have had a leather strap and archive material reveals that, at his special wish, the jeweller exchanged this for a metal bracelet to satisfy his celebrity customer.
Ventura XXL Elvis Anniversary Collection
Having started its life as a pioneer, the Hamilton Ventura continues to make a bold statement over half a century later in the form of a limited XXL edition. This special timepiece integrates touches of the unexpected to give its classic inspiration a futuristic and rocky feel. The familiar shield shape of the gunmetal colored case gets a distinctively contemporary look through smoothed surfaces and XXL dimensions. The angular crown is integrated into the case with its pointed tip signalling 3 o'clock. The black dial has racy looks with a background effect resembling that of a high-tech sound box. A touch of fiery red stretches from 12 o'clock to 3 o'clock and daringly reappears on the tip of the seconds hand. Celebrating modernity, the case elegantly flows into a stylish, smooth black rubber strap. The limited edition which will only be produced till the end of 2010 will contribute to make the King's legend alive.