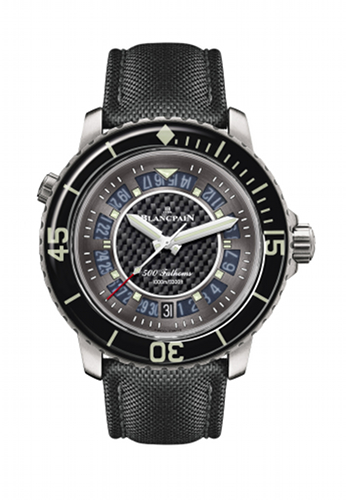 Pour la 3e vente aux enchères caritative ONLY WATCH, réalisée au profit de la recherche sur la myopathie Duchenne, Blancpain lève le voile sur un exemplaire unique au monde de sa nouvelle 500 Fathoms. Pièce d'exception, la 500 Fathoms Only Watch N°1/1 a été spécialement imaginée et conçue pour la cause. Cette sportive de haut rang affiche un design sans compromis et des performances abouties, qui célèbrent ses origines mythiques : celles de la première montre de plongée moderne, la fameuse Fifty Fathoms de Blancpain*.
Fidèle à un engagement perpétué depuis près d'une décennie auprès de l'Association Monégasque contre les Myopathies (AMM), Blancpain réaffirme son soutien en dévoilant une montre d'exception: la 500 Fathoms Only Watch N°1/1, une montre de plongée unique, pour amateurs exigeants et raffinés. Nouveau visage, nouvelles dimensions, nouvelles performances, la 500 Fathoms peut en quelque sorte être considérée comme la « grande sœur » – en taille – de la célèbre Fifty Fathoms*.
Plus imposante que ses prédécesseurs – 48 mm de diamètre – la 500 Fathoms Only Watch N°1/1 est étanche à 1000 mètres. Placée à l'intérieur du boîtier en titane brossé, une valve de décompression automatique garantit la sécurité et la fiabilité de la montre, sans nécessiter de manipulation à son détenteur. Unique, le cadran gris anthracite de la 500 Fathoms Only Watch N°1/1 est orné d'un centre en fibre de carbone. Un anneau en saphir bleu fumé dévoile en transparence le disque de la date, lisible dans une fenêtre à 6h. Le revêtement luminescent appliqué sur les index, les repères de la lunette et les aiguilles, ainsi que la pointe rouge de la trotteuse offrent un confort de lecture optimal en toutes circonstances. Le relief de la lunette tournante unidirectionnelle est cranté, facilitant ainsi son maniement. Façonnée en titane et en saphir inrayable, la lunette est dotée d'un léger relief bombé qui limite les impacts.
Le fond en saphir laisse admirer le mouvement automatique 1315 et sa masse oscillante en forme d'hélice de bateau, entièrement décorés à la main. La 500 Fathoms Only Watch N°1/1 est équipée d'un bracelet toile de voile noire doublée de caoutchouc. Un deuxième bracelet, en caoutchouc, et l'instrument pour le fixer, parachèvent la panoplie, livrée dans un coffret étanche ultrasolide résistant aux conditions extrêmes.
---
For the third ONLY WATCH charity auction held to raise funds for research on Duchenne muscular dystrophy, Blancpain unveils a one-of-a-kind 500 Fathoms model. The exceptional 500 Fathoms Only Watch N°1/1 was specially conceived and developed for this cause. This world-class sports model featuring an uncompromising design and accomplished performances celebrates its legendary origins in the world's first modern diver's watch, the famous Fifty Fathoms by Blancpain*.
Loyal to an almost decade-long commitment to the Monegasque Association against Muscular Dystrophy, Blancpain is reaffirming its support by introducing an exceptional model: the 500 Fathoms Only Watch N°1/1, a unique diver's watch intended for demanding and refined connoisseurs. Endowed with a new face, new dimensions and new performances, the 500 Fathoms may be considered the "big sister" (in size terms) of the famous Fifty Fathoms*.
More imposing than its predecessors, the 48 mm-diameter 500 Fathoms Only Watch N°1/1 is water-resistant to 1000 metres. An automatic decompression valve housed inside the brushed titanium case, guarantees the watch's security and reliability without any intervention by its owner. Unique in the world, the anthracite grey dial of the 500 Fathoms Only Watch N°1/1 is adorned with a carbon fibre centre. A tinted blue sapphire ring provides a transparent view of the date disc rotating beneath a window at 6 o'clock. The luminescent coating applied to the hour-markers, bezel markings and hands, along with the red tip of the central seconds hand, ensure optimal read-off in all circumstances. The easy-grip raised notched unidirectional rotating bezel facilitates handling, while the titanium and scratchproof sapphire crystal bezel is slightly domed to reduce the risk of impacts.
The sapphire crystal case-back enables one to admire the self-winding Calibre 1315, as well as its entirely hand-decorated oscillating weight shaped like a boat propeller. The 500 Fathoms Only Watch N°1/1 is equipped with a rubber-lined black sail canvas strap, while an additional rubber strap and the dedicated instrument required to fix it complete the set, delivered in an ultra-sturdy watertight presentation box able to withstand extreme conditions.