2009 a définitivement été une année créative pour CORUM, marquant le lancement du deuxième mouvement maison de la marque et l'avènement de nouveautés exclusives. CORUM clôture l'année en beauté et dévoile quatre garde-temps exceptionnels pour les fêtes de Noël. Ces pièces illustrent le travail en profondeur réalisé par CORUM pour acquérir l'expertise des mouvements compliqués. Alors que deux d'entre elles se dotent d'une haute complication, le tourbillon, les deux autres pièces capitalisent sur un matériau moderne et technique, le titane.
Enrichissant les collections Corum Bridges et Romvlvs, qui forment avec l'Admiral's Cup et les Artisans les piliers phares de la marque CORUM, la maison horlogère révèle quatre pièces d'exception.
Se tournant vers son histoire pour renouer avec ses racines, CORUM a fait renaître ses fondamentaux et reconstruit sa stratégie produit selon une structure claire basée sur quatre piliers icônes. Le développement du capital humain, avec une attention particulière portée à l'intégration des métiers, des compétences techniques et du développement des produits, a été au coeur des préoccupations de la marque et a porté la créativité de CORUM à son sommet.
Couleur de l'élégance par excellence, CORUM habille ses nouveautés de noir pour les fêtes de Noël.
Boîte, cadran, mouvement; les composants portent un revêtement sombre pour des soirées étincelantes. Deux pièces en titane sont présentées dans un esprit noir monochrome.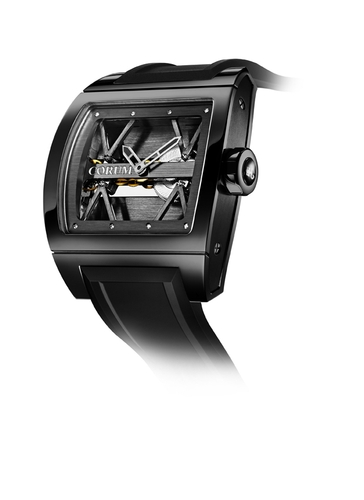 Black Ti-Bridge
100% noir extrême! La célèbre Ti-Bridge s'habille de noir pour les fêtes de fin d'année. Tant pour son mouvement que pour son boîtier, la Ti-Bridge fait la part belle au titane, matériau réputé pour sa légèreté mais aussi pour les difficultés qu'il pose en termes d'usinage. Les ponts et platines du calibre CO 007 sont taillés dans ce matériau ultra moderne. A l'instar du pont supérieur traité de PVD noir et gravé du nom « CORUM », les composants du mouvement font l'objet de finitions soignées.
Les ponts sont satinés tandis que l'imposant barillet présente une finition brossée colimaçonnée. Battant à une fréquence de 4 Hz, le calibre CO 007 dispose d'une confortable réserve de marche de 72 heures.
Poussant les limites de la technicité et de l'esthétique, CORUM a développé une manière unique de fixer le mouvement à l'intérieur de la boîte au moyen de quatre brides d'emboîtage triangulaires.
La boîte cambrée de forme tonneau en titane assure un confort parfait au porteur de la montre. Entièrement traitée PVD noir, le boîtier monochrome confère une touche très contemporaine à la Black Ti-Bridge.
Cette création techniquement exceptionnelle ne sera produite que dans une édition limitée de 250 pièces.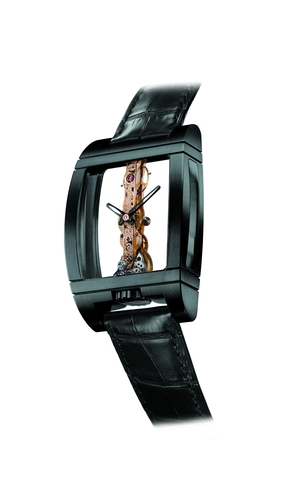 Golden Bridge Black Titanium
La collection Golden Bridge s'enrichit d'un modèle traité de PVD noir, mariant la délicatesse de la boîte en glaces saphir avec la robustesse du titane, matériau également réputé pour sa légèreté. Dans cette pièce d'exception, la modernité de la boîte titane contraste avec le classicisme et la finesse de l'authentique mouvement baguette. Le noir profond de la boîte avec finition satinée accentue les reflets d'or du mouvement gravé main, un calibre emblématique de la marque. Ponts et platine sont taillés dans l'or 18kt et rehaussés des aiguilles des heures et minutes squelettées noires. La conception du mouvement linéaire à remontage manuel avec une réserve de marche de 40 heures est le fruit du talent et de la précision des artisans horlogers de CORUM.
Défiant les limites de la technicité, CORUM a choisi le titane grade 5 pour la réalisation de la boîte car s'il est le matériau le plus difficile à manufacturer il offre une palette de finitions.
Combinant le style moderne et authentique, CORUM redéfinit l'intemporalité avec la Golden Bridge Black Titanium, modèle qui sera produit en édition limitée de 138 pièces.
Mécanisme majestueux, le tourbillon reste la complication la plus convoitée en Haute Horlogerie.
Originellement crée en 1801 par Abraham-Louis Breguet, le tourbillon apparaît dans les montres bracelet seulement dans les années 80. Le rôle du tourbillon initialement crée pour les montres de poche est d'éliminer les effets perturbateurs de la gravité terrestre sur l'organe régulateur du mouvement.
CORUM dévoile deux pièces remarquables qui abritent cette complication d'excellence.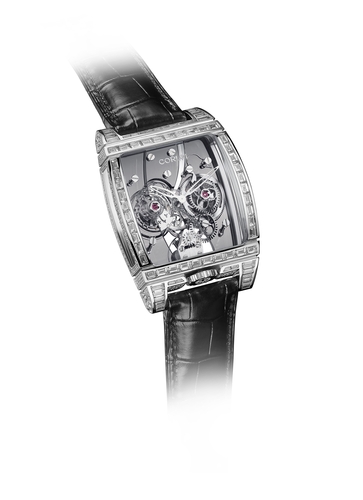 Golden Tourbillon Panoramique Grey Sapphire
Réinterprétant la transparence caractéristique de CORUM depuis 2007, la marque présente la Golden Tourbillon Panoramique avec des saphirs traités PVD gris.
Doté d'une réserve de marche de 90 heures, le tourbillon semble triompher sur un trône de crystal, une véritable création horlogère d'exception. La platine et les trois ponts sont entièrement faits de saphir, un matériau très délicat à travailler et résistant à la fois. La couleur légèrement grisée du saphir révèle en partie le mystère de la conception de la pièce tout en accentuant sa force. Encadrant le mouvement comme une oeuvre d'art, la boîte en or blanc 18kt est sertie de 309 diamants qui accentuent le précieux de ce garde-temps exceptionnel. Quatre glaces saphir offrent une vue imprenable sur ce mouvement exclusif qui bat à une vitesse de 21'600 vibrations par heure.
Manufacturer un garde-temps tel que la Golden Tourbillon Panoramique requiert une précision extrême et une grande expertise des complications horlogères. Le modèle est disponible en édition limitée de 5 pièces uniquement.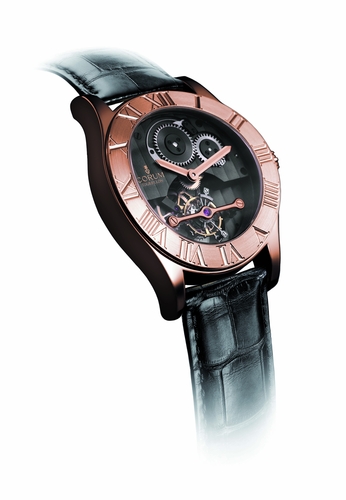 Romvlvs Tourbillon
Originellement crée en 1966, la collection Romvlvs empreinte de classicisme authentique se conjugue avec les complications horlogères les plus renommées. En 2008 Corum lançait un calendrier perpétuel et un calendrier annuel rétrograde dans la collection, cette année c'est une Romvlvs Tourbillon qui voit le jour.
Au coeur de la pièce bat un mouvement mécanique à remontage manuel à la vitesse de 21'600 vibrations par heure doté d'une généreuse réserve de marche de 130 heures.
L'absence de cadran révèle toute la beauté du mouvement traité de PVD noir. Platine et ponts sont ornés de Côtes de Genève, accentuant l'élégance classique de ce garde-temps d'exception. La finition satinée soleil et le traitement PVD noir du rochet et de la roue de couronne illustrent l'attention que porte CORUM aux détails et finitions.
Telle une signature de la collection, les heures s'égrènent en chiffres romains gravés sur la lunette.
Edition limitée à 10 pièces, la Romvlvs Tourbillon deviendra le garde-temps de quelques privilégiés.
---
2009 was definitely a creative year for CORUM with the launch of its second in-house movement and exclusive novelties. CORUM ends the year on a high note and unveils four exceptional timepieces for the Christmas celebrations. They illustrate CORUM's long-term work to acquire expertise in high-end watch movements. Two of them are equipped with a high complication, the tourbillon, while the two other capitalize on a modern and technical material, titanium.
Enhancing the Corum Bridges and Romvlvs collections, which together with the Admiral's Cup and Artisans lines represent the four CORUM pillars, the Swiss Watchmaker reveals four outstanding timepieces.
Looking back on its history and renewing ties with its roots, CORUM has revived its fundamentals and rebuilt its product strategy following a clear structure based on the four iconic pillars. The development of the human capital, devoting particular attention to the integration of watchmaking professions, technical skills and product development have led to an exceptionally creative year for CORUM.
The color of understated elegance, CORUM dresses its new timepieces in black for the Christmas season. Cases, dials, movements; all components wear a sober coating for the most glamorous evenings. Two titanium timepieces are presented in an all-black look.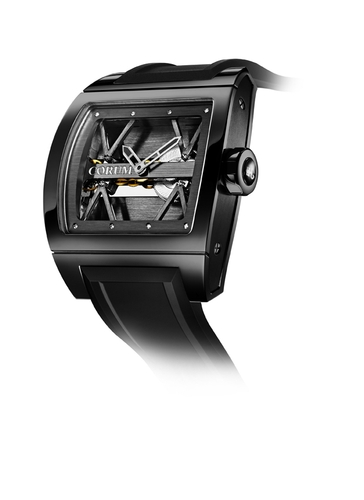 Black Ti-Bridge
A pure black experience! The now famous Ti-Bridge comes dressed in black for the festive end-of-year season. In both its movement and case, the Ti-Bridge gives pride of place to titanium, a material known for its lightness and the difficulties involved in machining it. The bridges and plate of the Caliber CO 007 are cut from this ultra- modern material. The meticulous finishing on all movements is typified by the upper bridge coated with black PVD and engraved with the "CORUM" brand name. The bridges are satin-finished, while the generously sized barrel features a snailed finish. Equipped with a balance oscillating at the speed of 4 Hz, Caliber CO 007 is endowed with a 72-hour power reserve. Pushing the boundaries of technicality and aesthetics, CORUM developed a unique way to attach the movement to the case with four triangles replacing the casing clamps.
The curved tonneau-shaped case made of titanium ensures perfect comfort for the wearer. Entirely coated with black PVD, the dark monochrome watch case gives a contemporary touch to the Black Ti-Bridge. As a technically exceptional creation, the Black Ti-Bridge will be produced in a Limited Edition of 250 pieces.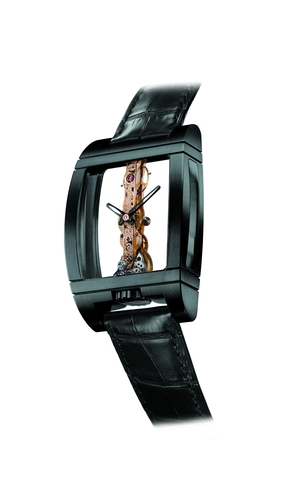 Golden Bridge Black Titanium
The Golden Bridge collection is enriched with a black PVD coated titanium model, marrying the delicate case conception cut from transparent sapphire crystal with the strength of the titanium, also known for its lightweight properties. In this timepiece, modernity and technicality of the titanium case responds to the classicism and finesse of the authentic baguette movement.
Challenging the limits of technicality, CORUM features titanium Grade 5 for the watch case as it is the most difficult to manufacture but also the only grade which offers different polishing designs. The Golden Bridge Black Titanium stems from the talent and precision skills of the watchmaking artisans to conceive this hand-wound linear movement bearing a 40-hour power reserve.
The deep black satin-finished case highlights the golden reflections of the emblematic hand-engraved movement. Its mainplate and bridges are crafted in 18kt gold and topped by two black openworked hour and minute hands. With this model CORUM reinvents timelessness while combining modern and authentic spirit in one timepiece. The Golden Bridge Black Titanium will be produced in a Limited Edition of 138 pieces.
A masterly mechanism, the tourbillon is still the most coveted high complication in Haute Horlogerie. It was created in 1801 by Abraham-Louis Breguet and only began to appear in wristwatches in the 1980s. The role of the tourbillon, originally created for pocket watches, is to eliminate the disruptive effects of gravity on the regulatory organ of the movement. CORUM unveils two striking timepieces which house this famous complication.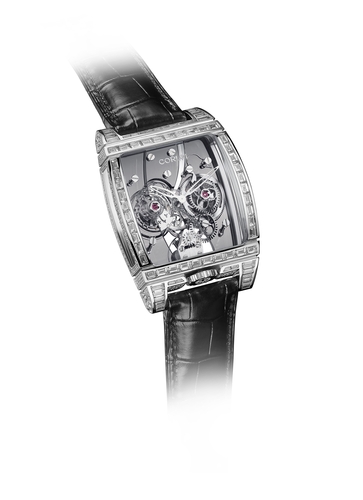 Golden Tourbillon Panoramique Grey Sapphire
Reinterpreting transparency, characteristic of CORUM since 2007, the brand presents a Golden Tourbillon Panoramique with grey PVD coated sapphire crystals. Endowed with a 90-hour power reserve, this tourbillon set on a sapphire crystal throne is a truly exceptional creation. The mainplate and the three bridges are made of sapphire crystal, a very delicate and brittle material. The slightly grey color of the sapphire crystal partly reveals the mystery of the conception and accentuates the strength of the timepiece. Four sapphire crystal glasses offer the maximum view of this stunning movement beating at 21,600 vibrations per hour.
Framing the movement like a genuine work of art, the white gold case is set with 309 diamonds, accentuating the precious appearance of this exceptional timepiece. Manufacturing the Golden Tourbillon Panoramique Grey Sapphire calls for extreme precision and high-end watchmaking knowledge, a CORUM signature available in a Limited Edition of 5 pieces.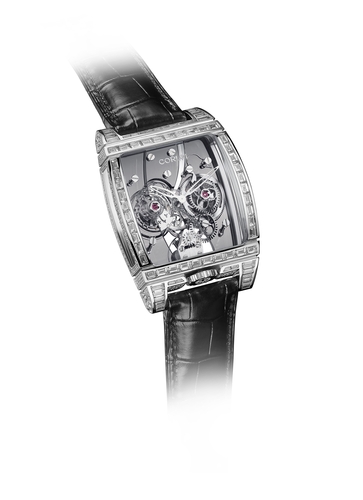 Romvlvs Tourbillon
Originally created in 1966, the Romvlvs collection is imbued with authentic classicism and hosts the finest watchmaking complications. In 2008, CORUM launched a Perpetual Calendar and a Retrograde Annual Calendar. This year CORUM unveils a new high complication in the collection, the Romvlvs Tourbillon. At the heart of the timepiece beats a mechanical hand-wound tourbillon movement at the speed of 21,600 vibrations per hour endowed with a long lasting power reserve of 130 hours.
The absence of dial reveals the beauty of the black PVD coated movement. Bottom plate and bridges are graced with Côtes de Genève finish, enhancing the classical elegance of this exclusive timepiece. The sun-brushed and PVD coated ratchet and crown wheels demonstrate CORUM's traditional watchmaking know-how. As a signature of the collection, the hours are translated into Roman numerals engraved on the bezel.With a Limited Edition of 10 pieces, this timepiece will be worn among the rare privileged owners only.