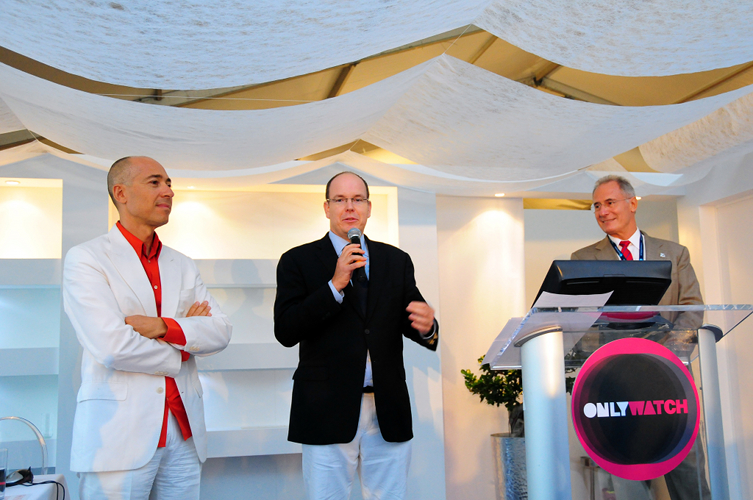 34 montres exceptionnelles atteignent € 2'285'500 lors de la vente aux enchères bi annuelle en faveur de la Recherche sur la Myopathie Musculaire de Duchenne
En présence de S.A.S. le Prince Albert II de Monaco, la troisième édition de la vente aux enchères caritative Only Watch de 34 garde-temps a atteint la somme exceptionnelle de € 2'285'500. La totalité des fonds de cette vente organisée par Patrizzi & Co et le Monaco Yacht Show permettra de continuer à financer fortement d'importantes recherches scientifiques et médicales sur la Myopathie Musculaire de Duchenne.
Président du Monaco Yacht Show et Fondateur de l'Association Monégasque contre les Myopathies, Luc Pettavino a déclaré:
« Devant ce merveilleux résultat, je ne peux que remercier du fond du cœur toutes celles et ceux qui ont apporté avec humanité, recherche d'excellence et altruisme leur talent à ce noble projet. Au-delà des marques, des collectionneurs, des personnalités, des partenaires, des sociétés organisatrices… c'est un groupe d'hommes et de femmes qui, réunis dans une même énergie, orientés vers un même objectif, donnent à nouveau ce soir, avec humilité et joie à des milliers enfants dans le monde le droit de continuer à espérer en une guérison. »
Osvaldo Patrizzi, Président de Patrizzi & Co prenait à son tour la parole :
« C'est un excellent résultat, qui prouve une nouvelle fois qu'il y a toujours une forte demande pour des pièces exceptionnelles et vraiment uniques. Merci aux 34 manufactures qui ont offert le fruit de leur magnifique travail. »
Enfin, S.A.S. Le Prince Albert II concluait ces interventions en remerciant et félicitant tous les participants de ce fantastique projet.
€ 30'000 de dons s'étant rajouté à la somme finale, sur lesquels l'Association Monégasque contre les Myopathies peut compter pour continuer à soutenir les projets de recherche en cours et d'en favoriser de nouveaux. Grâce à Only Watch, chaque jour nous rapproche un peu plus d'une solution thérapeutique pour les enfants atteints de cette lourde pathologie qu'est la Myopathie de Duchenne.
Only Watch est devenu un rendez-vous caritatif de Haute Horlogerie, reconnu, attendu par les collectionneurs du monde entier et tellement utile. C'est donc avec le plus grand plaisir que les différents acteurs d'Only Watch 09 vous donnent rendez-vous en septembre 2011 pour la quatrième édition d'Only Watch : ONLY WATCH 2011 – saison IV.
---
34 exceptional timepieces achieved €2,285,500 at the bi-annual Only Watch charity auction in support of research into Duchenne Muscular Dystrophy.
In the presence of HSH Prince Albert II of Monaco, the third edition of the Only Watch charity auction of 34 exceptional timepieces organized by Patrizzi & Co and the Monaco Yacht Show ensured the continuation of the financing of important scientific and medical research into Duchenne Muscular Dystrophy.
"These are excellent results," says Osvaldo Patrizzi, "Proving once again, thanks to the marvellous craftsmanship of the 34 watch brands that donated their unique works of horology, that there is always a demand for unusual and exclusive pieces."
Luc Pettavino, President of the Monaco Yacht Show and founder of the Monegasque Association Against Muscular Dystrophy, declared, "In the face of this marvellous result, I cannot but thank everyone from the bottom of my heart for everything that they have given of their talents to such a noble cause and with such humanity, excellence and altruism. Not least the brands, collectors, personalities, partners, organizers – a group of men and women that, with their collective energies orientated towards the same objective, have once again given this evening with humility and joy, the right of hope for healing to 1,000s of children in the world."
At the conclusion of the auction, HSH Prince Albert II thanked everyone and congratulated all the participants of this fantastic project.
€30,000 of donations was also added to the final sum with which the Association count on continuing to support the research projects already underway and also help new projects. Thanks to Only Watch, day by day a therapeutic solution for the children suffering from this pathology that is Duchenne Muscular Dystrophy draws closer.
Only Watch has become the high watchmaking charity auction eagerly waited for by watchmaking collectors and aficionados around the world. So it is with great pleasure that everyone involved in Only Watch invite you to join them again in September 2011 for the next edition of Only Watch.